+44 (0)1205 360099

Sprint Steering Dampers
Adjustable Steering Dampers
Sprint concentrate their energies exclusively on the development and manufacture of steering dampers and fitting kits, enabling them to focus on innovation and quality within this field. Having been tried and tested for many years, their products are often more technically advanced internally than many competitor products, which means a damper kit, which increases stability without effecting steering and handling response.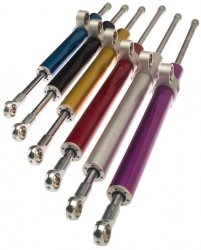 Sprint Steering Dampers - Features:
13 position - easy positive click adjustable.
Linear low friction seals to give a consistent feel.
'O' ring controlled heat expansion device.
Full factory support - rebuild & repair service.
Attractive anodised outer sleeve to prevent corrosion.
Steering Damper Fitting Kits
Precision machines from HE 30 billet aircraft spec' alloy.
Kits fit with no modifications necessary.
Mounts damper so it can be easily adjusted on the move.
Anodised clear / black finish to prevent corrosion.
Model logos are machined into brackets. *
Suppplied with stainless bolts and alloy spacers where necessary.
Sorry, no products found.