+44 (0)1205 360099








Departments
Motorcycle Accessories
High Quality Motorcycle Accessories
When it comes to bike accessories, we've got everything you'll ever need, all under one roof! We've recently expanded our range of accessory brands which now incorporates motorbike kit from Oxford products, Bikeit, and Gear Gremlin. Furthermore, our belief in offering our customers both choice and value is backed up by our price promise. We check all of our prices daily, but if you do find any of our bike accessories cheaper anywhere else, whether it's a lock, motorcycle oil, or even a tax disc holder, just use our simple price match facility.
Departments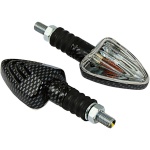 Motorcycle Indicators


Tax Disc Holders


Bar Ends

Tank Protectors


Handlebar Grips


Valve Caps


Transport Accessories


Miscellaneous
Featured Products
---
Recent Product Reviews
---

- November 28, 2013
Great Jacuzzi
Really, wrapping your old, bent, frozen claws around these beauties instantly transports your hands into what feels like jacuzzi, minus the wetness of course. Really was not expecting so much heat generated! If you'd like the skin burnt off your palms in winter then this will definitely do the job! Comes with 5 options to manage the temperature, and will easily defrost your hands. I can attest first hand on the "safety" feature on saving your battery, i leave these on after parking the bike up sometimes forgetting, wake up in the morning only to remember my mistake, and i always find the battery is still alive and well.
Daniel James - Exeter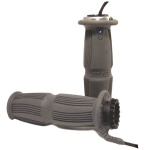 - November 27, 2013
Excellent Grips
These grips are much better quality than another well known brand I could mention and definitely worth pay the extra for. Both grips operate independently of each other, you can have a higher heat setting on one grip and lower heat setting on the other or one grip on and the other off. These grips also have a automatic shut off so won't drain your battery if you forget to switch them off (not like the other well known brand). Please note: these grip are black and not grey as in the picture. Once again, excellent service from SportsBikeShop. If Carling made motorcycle accessory shops....Sportsbikeshop would probably be the best in the UK.
Tom - London

- November 27, 2013
Nothing short of excellent
The website described the grips with plenty of detail allowing me to make an informed decision on which grips to choose. Having tried the 'Ride best buy' R&G heated grips which failed after 2 months and weren't even warm, I though might as well pay the extra for the proper business. Wow, these grips are brilliant, 5 temperature control, easy to fit, comfy grips and smart chip fitted to turn of heated grips when ignition is off. I have some uber thick winter gloves and the grips get too hot with those. Worth every penny and a must have accessory on any bike.
Aron - Ilkeston
PLEASE NOTE: The views and opinions expressed in the above reviews are solely those of the author and are not necessarily representative of the views of SPORTSBIKESHOP LTD.