+44 (0)1205 360099








Departments Filters Applied Refine Your Results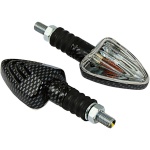 Motorcycle Indicators
Improve the look of your bike with our range of replacement indicators
Don't let ugly indicators spoil your bike, fit replacements. Our massive range has every type you could be looking for, from custom style chrome indicators, to flush mount micro indicators. We also stock replacement LED indicators, to help give your bike a more modern look. Whatever type you're thinking off, replacing your indicators is one the easiest ways to improve your bikes looks, without breaking the bank!
Recent Product Reviews
---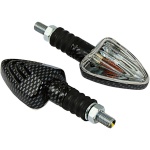 - November 28, 2013
Quality indicators
Brilliant product, easy to fit, really "meld" into the bodywork when not needed. **TIP FOR GSF 650 SA K7** Keep the old indicates, and strip the bulb/stalk end off leaving the "rubber mounting", then inspect the "ridges" that run up the rubber... cut it in half from the 4th "ridge" from the bottom and then use the bolt and secure this in the hold left... Screw the indicator on and wallah!! a perfect fitting indicator that fits into factory OEM indicator socket without looking like crap or leaving gaps, made my bike looks sexy as...well I've never seen anything as sexy.
Daniel James - Exeter


- October 25, 2013
Very pleased
Bought these after my bike decided to come off the stand one morning! But I'm really glad I did, they are great. Very easy to fit, well made and visable. Really like the two leds pointing sideways! Will be getting a set for the front to match. Can't say better than that.
Martin Cockerell - Chingford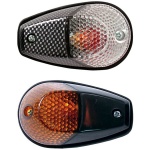 - September 17, 2013
nice
never been a fan of big indicators on stalks or of the mini things. These are perfect for keeping the flow of your bike whilst still doing a decent job. I fitted these to my Daytona 955 without much hassle but did do the job properly and had to drill the fairing which was simple as its easy to make a template from the backing plate. The indicators come with various fixings for different situations short or long screws, self tapping screws, sticky pad but why anyone would want to stick indicators on i don't know. Great product looks good.
Richard - Southampton
PLEASE NOTE: The views and opinions expressed in the above reviews are solely those of the author and are not necessarily representative of the views of SPORTSBIKESHOP LTD.