+44 (0)1205 360099








Departments Refine Your Results

Leather Motorcycle Gloves
Leather motorbike gloves
If you're looking for the ultimate in protection, leather motorcycle gloves should always be your first choice and we have a pair to suit every budget. Our extensive leather glove range is constantly being updated to incorporate the latest designs from all of the brands out there worth considering. We now offer the full range of Held gloves as well as many other brands such as Knox, Alpinestars, RST and Richa. We also stock a full range of womens leather gloves in every style available.
Recent Product Reviews
---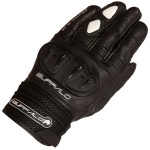 - August 23, 2014
Good value
Fit - The gloves are a snug fit, slightly stiff at first but fit perfectly to hands after a few times wearing it. Adjustment straps are on each glove to allow user to tighten around wrists. Protection - Gloves provide thick leather to the palms and fingers, providing good protection whilst not hindering ability to control the brakes or clutch or accelerator grip. Hard plastic is provided to knuckles which provide ample protection whichever was you land on your hands in the event of an accident. Ventilation, Waterproofing & Warmth - Gloves are well ventilated via holes in leather on inside of the hands along the fingers. Hardened knuckles also have small holes penetrating through with small mesh underneath to provide ventilation inside of glove. The leather provides warmth however in the event of rain these gloves do become saturated, but hands don't become particularly cold.
Rozh - NW London


- August 21, 2014
Well made, comfortable and flexible
These gloves are fantastic for the summer. They are comfortable, flexible and breathable. The sizes are near perfect. I bought these by just following the standard hand measurements and no returns required. Reinforced in the right places without reducing to much feeling. I bought them with RST Pro series jacket and they fit beautifully together.
Dane Caswell - Sherborne


- August 20, 2014
Cool gloves
Great quality gloves for the money. Yes the little finger is a bit long for my digits but these are comfy, cool gloves that are ideal for blistering hot days (when we get some). Ever so lightweight but not draughty. Easy to pull on and off and Velcro closure fits over most jackets.
James Varley - Nottingham
PLEASE NOTE: The views and opinions expressed in the above reviews are solely those of the author and are not necessarily representative of the views of SPORTSBIKESHOP LTD.