+44 (0)1205 360099








Featured Brands Refine Your Results
Richa Boots
Sturdy motorcycle boots incorporating Guanatex
As a range, Richa motorcycle boots have it covered with a boot to suit all riders, from commuters to racers, and everyone in between. The brand consistently delivers both quality and style, without a hefty price tag attached and Richa bike boots are no exception. With over 10 years experience of producing product without compromise, Richa will undoubtedly continue to grow, particularly as its range is constantly evolving to take the latest biking trends into account. As one of UK's most popular brands, we'll always feature the full range of Richa motorbike boots, particularly as they achieve one of our highest levels of customer satisfaction, just check out the reviews!
Recent Product Reviews
---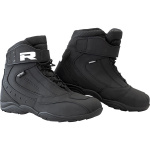 - October 24, 2013
Great boots
These are fab, true to size and work well with thin or thick socks. Need breaking in as they are quite stiff to begin with, but then that's to be expected. All in all I am completely happy with them. Kept me dry during a torrential downpour in which I rode for an hour. Can't ask for much more.
Paul Riley - Nottingham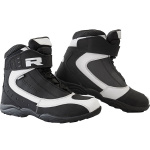 - September 30, 2013
Comfy
I bought these because I wanted something solid and supportive but that didn't make me look like I'd just finished a moto GP race. Success on that front. However, having actually got hold of them I wonder if perhaps the plain black ones might have been a better choice - looking a little less like bowling shoes or clown shoes as my wife put it. (I chose these as I thought the white would be a bit more conspicuous from a safety point of view). Overall, though, I'm very pleased. They're very comfy to ride in and also when off the bike, to walk around in. They seem to offer protection in all the right places (apart from the shin, obviously). I haven't been able to test them for waterproof-ness yet.
Anonymous - Whitstable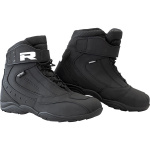 - September 16, 2013
Dry, comfortable, excellent boots
Took these as a replacement for other branded boots. Happy from the off. Comfortable, loose enough at the ankle but still tall enough to keep wind and water at bay. Easy on, easy off. Good for short trips, good for all day. Sportsbikeshop service was fantastic.
Craig Dixon - Rossendale
PLEASE NOTE: The views and opinions expressed in the above reviews are solely those of the author and are not necessarily representative of the views of SPORTSBIKESHOP LTD.