+44 (0)1205 360099








Departments Filters Applied Refine Your Results

Base Layers
Thermals, base layers & windproof clothing & accessories
Dogs aren't just for Christmas and base layers aren't just for Winter! Whilst thermal base layers are a must for riding in colder conditions, our vast range of base layers incorporates a large selection of breathable layers to also keep you cool in the summer. We stock every brand you'll ever need from the biggest names in motorcycle clothing such as RST, Oxford & Rukka to base layer specialists such as EDZ.
Recent Product Reviews
---

- December 11, 2013
What it says on the tin
You get exactly what it says on the tin. They're socks, you wear 'em. If you wear "inside" boots like Dainese these are great as they are long, but, if you wear regular "outside" boots e.g. Alpinestars etc, then they are just like any other sock.
Anthony Wright - Caerphilly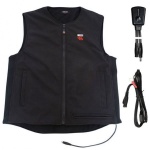 - December 9, 2013
Warm baby, yeah
OK, so I only tried this for a mere 20 miles after I wired it into the battery - since then it's gone to an almost tropical 12 degrees. But I was very impressed with the level of warmth from the vest - felt fantastic on my SMIDSY-damaged back ... I'm tempted to get a battery so I can wear it aboot the hoose !
Keith Evans - Edinburgh


- December 9, 2013
Toasty paws
Recommend the outer glove be one size higher than normally worn. These are rather thick inner gloves about the thickness of a descent pair of neoprene gloves. I purchased these 3 weeks before I actually used them in horrendous cold wet weather and my fingers where warm for the duration of the battery life (got the small battery about 3-4 hours) motorway ride. The left hand glove split along the seam of the thumb and palm, which Sportsbikeshop immediately replaced with a new pair. The customer service on the return and replacement was exceptional. Thanks. Spoiler Alert : The cables are really orang-utan arms long! I used cable ties to bunch the cable but found this a pain when the cable shot back up the jacket arm, so now going to duct tape the cable in the jacket for the battery pack connection lead. Not tried it connected to the main battery yet. But the ability to stay connected to power when walking around is what made me try this product. Apart from the dodgy sewing on one glove, I am happy with the performance of the inner glove.
ir - Dartford
PLEASE NOTE: The views and opinions expressed in the above reviews are solely those of the author and are not necessarily representative of the views of SPORTSBIKESHOP LTD.