+44 (0)1205 360099








Departments Filters Applied Refine Your Results

Flip Up Helmets
Flip up motorcycle helmets
We now have over 4000 helmets in stock ready for next day delivery and our range of flip up helmets is second to none. When it comes to brands, we have every single name worth considering and a price point to suit every budget, just make sure you use our 360 degree helmet spins when you're choosing. We have 2 spins for every flip up helmet, 1 to show the helmet closed and one to show it open. We really have got helmets covered!
Recent Product Reviews
---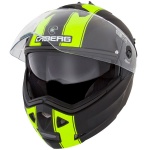 - November 25, 2014
Love it
Purchased this to replace an aging Caberg Justissimo. The Duke Legend looks great and is very comfortable for my roundish head. The Duke is also very light for a modular, and I loved the way they prepped it for speakers. It is very rare for a modular to earn 5 stars from SHARP, but the Duke did. The seal around the faceshield looks a little suspect (gasket on the Nolan n104 looks more secure), and I'm thinking a little water would get in during a heavy rain. It doesn't have much chin room, so I'm glad I use a boomless mic system. Despite those two minor complaints, the combination of quality, comfort, light weight, safety, and appearance earn 5 stars from me. Thanks to Sportbikeshop for tremendous customer service, too.
M. Jordan - USA


- November 24, 2014
Top notch helmet
This is the first flip up helmet I have bought. The quality is very good and no more struggling to get my glasses on like I did with a full face just flip it up and pop them on. I like the get yourself seen colour and it also has flip down sun visor. All in all I'm well pleased with this helmet.
James Mcghee - Ely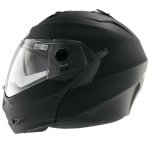 - November 14, 2014
Good budget helmet
Its great value for money. Its handy, it has clips for the Scala rider microphone but the spot on the chin area they give is not great. Worth getting some anti fog spray too, the main visor is great due to Pinlock but if your using the sun visor it can easily mist up. Apart from that its excellent value for money.
Anonymous - Leicester
PLEASE NOTE: The views and opinions expressed in the above reviews are solely those of the author and are not necessarily representative of the views of SPORTSBIKESHOP LTD.