+44 (0)1205 360099








Departments Filters Applied Refine Your Results

Flip Up Helmets
Flip up motorcycle helmets
We now have over 4000 helmets in stock ready for next day delivery and our range of flip up helmets is second to none. When it comes to brands, we have every single name worth considering and a price point to suit every budget, just make sure you use our 360 degree helmet spins when you're choosing. We have 2 spins for every flip up helmet, 1 to show the helmet closed and one to show it open. We really have got helmets covered!
Recent Product Reviews
---


- October 20, 2014
Top quality
Great helmet. No fogging issue with breath guard fitted, easy operation, good ventilation and very very comfortable. I have an Arai full face and recently had a Shark flip. The quality of the Shark didn't feel as good as the Arai so I opted for the Shoei as you pay for what you get. It is top price but well worth it in my opinion.
Anonymous - Workington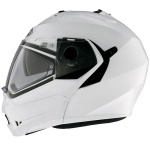 - October 16, 2014
Superb
Born again biker. I wanted a flip front 5 star SHARP helmet which didn't involve me taking out a mortgage. I wasn't sure if the max XL size would fit my huge football head but it's absolutely perfect (as per sharp fitting guide), very snug and comfortable and light. The flip mechanism is easy to operate and integral sun-visor and chin-guard are a must have. Very stylish lid. The only frustration was that the original and first replacement each had an abrasion mark on them but the second replacement was fine and Sportsbikeshop were great. Can't think why anyone would buy a more expensive helmet.
Michael Hoare - Radstock


- October 11, 2014
Great bluetooth helmet
My partner and I found these helmets very comfortable to wear. They are light, suitably padded and both the flip-up lid and inner tinted visor are simple to use. The vents do their job to keep the 'fogging' down to a minimum. First outing with these helmets was a 70 mile trip in torrential rain so visor was fully sealed all the way and no cause for concern for me as the front rider. We were impressed with the quality of the Bluetooth communication and was only diminished with motorway speeds and noise. Only slight criticism would be the way the microphone stalk pushes between the side padding of the helmet. It fits nicely but can fall out easily so we had to put an extra small piece of padding where the wire and stalk of the microphone sits to hold it in position. Bought the helmets from Sportsbikeshop and the communication from the seller and the courier was excellent. Price good too. Helmets look good and overall, very impressed.
Chris Bradbury - Doncaster
PLEASE NOTE: The views and opinions expressed in the above reviews are solely those of the author and are not necessarily representative of the views of SPORTSBIKESHOP LTD.