+44 (0)1205 360099








Departments Filters Applied

Flip Up Helmets
Flip up motorcycle helmets
We now have over 4000 helmets in stock ready for next day delivery and our range of flip up helmets is second to none. When it comes to brands, we have every single name worth considering and a price point to suit every budget, just make sure you use our 360 degree helmet spins when you're choosing. We have 2 spins for every flip up helmet, 1 to show the helmet closed and one to show it open. We really have got helmets covered!
AGV Numo - Gloss White Aggressively styled flip up helmet with sun visor
View

£119.99
£199.99
Recent Product Reviews
---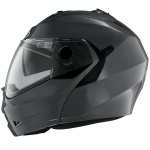 - December 19, 2013
So good I have two of them!
I'm only a new rider, just got full license a few weeks back. Decided to treat myself. No 1 should be safety but I thought that it just looked so good (gotta look good!) secondly I was very happy to hear it has a five star sharp rating for safety. The flip front is easy to operate and with the built in sun visor (works very well) my kids think I look like a fighter pilot! As long as they think it's cool that's all I need to confirm a good purchase! In seriousness this is a good helmet, have tried my best mates Schuberth C3 and a well under half the price this is very good. A bit of wind noise but nothing to bother too much. Fits snugly (the sizing charts are spot on). Everything works as it should plus it's made in Italy! Hold on just gonna put it on here - I look cool man! Lol. Thanks guys, great service by Sportsbikeshop. Now if I just had a fighter jet.
Christopher Mcgrath - Antrim


- December 10, 2013
Quality helmet
This is a good, quality feel helmet that's in my opinion not heavy, made very well, comfortable (Large) and easy to work all the lid/clips/push switches. I've had it for 2 weeks now, used in day, night, sun, wind and rain. Its better compared with my last helmet for wind noise, never anywhere near 70mph (125cc)but it is rather quiet, the Sun visor is very easy to put up and down whilst riding, prove rather useful I'm sure come summer. The clip on the front to make it a half face is quick and easy to do, with a satisfying click that you know its locked in safe. The clear visor is also very manageable (with gloves) to open. Useful as I wear glasses too and it can get a bit foggy sometimes. Overall this is a great helmet and I am very satisfied with the price and services from Sportsbikeshop.
Rhys - Caldicot


- December 8, 2013
Best of both worlds
This is my second Evoline. The first developed a fault within the covering(black banding bubbled up when wet)but was exchanged without any problems. A good helmet, very snug, pressure on the temples caused some discomfort but realised after a while that a small pad within cheek pad could be removed to make things right. Now all is OK. Very satisfied with the helmet price was OK too.
Robert Gardner - Truro
PLEASE NOTE: The views and opinions expressed in the above reviews are solely those of the author and are not necessarily representative of the views of SPORTSBIKESHOP LTD.