+44 (0)1205 360099








Departments Filters Applied Refine Your Results

Flip Up Helmets
Flip up motorcycle helmets
We now have over 4000 helmets in stock ready for next day delivery and our range of flip up helmets is second to none. When it comes to brands, we have every single name worth considering and a price point to suit every budget, just make sure you use our 360 degree helmet spins when you're choosing. We have 2 spins for every flip up helmet, 1 to show the helmet closed and one to show it open. We really have got helmets covered!
Recent Product Reviews
---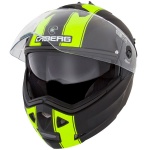 - January 28, 2015
Great helmet
After being knocked off my bike with my old Caberg Ego and that helmet saving my life I though I would stick with what I know. Great helmet, sun visor was what I was looking for firstly, then a bit of high visibility then a bit of nice styling. This suited these with the additional benefit of being a flip up, seems to be sturdily built as with all Caberg though the chin strap is a little far back it seems though takes a few rides to get used to. Not had a warm day yet to see how the vents do though I'm happy with the sun visor, cant really go wrong there! All in all another quality helmet from Caberg that I'll hopefully never have the enjoyment of crash testing!!
Craig - Milngavie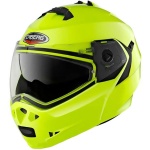 - January 26, 2015
Brighter than the sun (almost)
I had a Caberg Trip for about 5 years so this was the logical upgrade. This is more snug than the Trip but still fits fine. The Pinlock visor is incredible and the latch seems very high-quality. Oh yes - the colour is a little bit bright! Sportsbikeshop - very impressive service and even price matched it for me, so very pleased and will definitely make them my first port of call for future purchases.
Peter - Southampton


- January 22, 2015
Rock star looks, quality and comfort
I bought this helmet after a considerable amount of research. I wanted a flip up. I wanted comfort and above all I wanted convenience. I was initially drawn to the Shark range but quickly moved to Roof. I guess based on looks. I then learned that Roof were the first to introduce the 180 degree rotating chin. I toyed between the Desmo and the Boxer and was hesitant choosing the Boxer based on review that the Desmo was more convenient to flip. I finally purchased the Boxer -- I'm 100% happy with my choice. Above all the helmet is comfortable and light. The side clips are NOT inconvenient and are a breeze to clip on and off. Don't let this interfere with your decision. I fully recommend this helmet. Finally, the guys and gals at Sportsbikeshop are amazing. Best customer experience I've had online for years!
Chris - Malta
PLEASE NOTE: The views and opinions expressed in the above reviews are solely those of the author and are not necessarily representative of the views of SPORTSBIKESHOP LTD.