+44 (0)1205 360099








Departments Filters Applied Refine Your Results

Flip Up Helmets
Flip up motorcycle helmets
We now have over 4000 helmets in stock ready for next day delivery and our range of flip up helmets is second to none. When it comes to brands, we have every single name worth considering and a price point to suit every budget, just make sure you use our 360 degree helmet spins when you're choosing. We have 2 spins for every flip up helmet, 1 to show the helmet closed and one to show it open. We really have got helmets covered!
Recent Product Reviews
---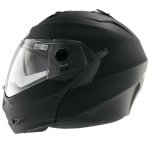 - March 2, 2015
Great mid-range helmet
I researched this helmet a lot prior to purchase. Not only has it got a 5* SHARP rating for safety but it's also a reasonable price. The helmet itself isn't heavy on your head and the build quality is superb. I would recommend this helmet over any other one on the market for a new rider. So much so, I'm considering buying a second one as a spare. Great helmet, great colour choices, great prices. The ventilation is also spot on when riding along the streets.
Nigel Slyth - Billericay


- February 28, 2015
Take your ear plugs
The good bits about this helmet are the colour and the ventilation. The bad bits are trying to open the vents and operate the internal visor with gloves on. The padding inside is very sparce making this a very noisy helmet when out on the road. The flip front is quite easy to open up and the chinstrap is very good but to be honest my previous helmet ( Caberg Justismo GT) was a far superior helmet....
Anonymous - Aberdeen


- February 27, 2015
How to choose between this and the C3 Pro
I wanted a C3 or C3 pro as I am a spectacle wearer and wanted to reduce the amount of wind noise before I got tinnitus. The C3 is a great price because of the introduction of the new C3 pro. You should be aware though that it is a 10 year old design and many of the problems in this helmet have been resolved in the Pro. As with all helmets you meed to try one on to make sure if suits your head size. Here are some of the documented problems with the C3 and my experience of them. Chin strap press on adams apple. I find the chin strap to be quite tight around the throat. Not uncomfortable but I am always aware it is there. The new pro version has moved the strap forward so if you have a very prominent Adams Apple you may want to try the Pro version. Visor not staying open above 20+ mph. I've not experienced this so I think this is something they must have resolved. Mark of Schuberth. This is an uncomfortable pressure mark that people get after 20mins of riding. Most reviews on the web think it is due to the head liner being a poor design. It has prominent seams in the area and flaps that can be unfolded to block the vents in winter. I experienced this immediately. It was quite uncomfortable and would take about 20 mins to disappear. I took advice from the net and ordered an S2 head liner which fit the C3. Although an added expense this did fix the problem. The pro has a redesigned liner so you would not suffer with this problem. Sound reduction. The sound reduction is very effective compared to my previous helmet (Caberg Modus). I still use ear plugs but the high wind noise has disappeared and instead there is low frequency wind noise which is far more comfortable to live with. One of the reasons for this is the chin curtain makes a snug fit with the front pulled down. I find this needs to be done without gloves on in order to stop the material folding. The C3 pro claims to have reduced noise even further. The flip front does not lock in an upright position and so cannot be ridden open. This is something I may miss in the summer however the ventilation is very effective so may not be a problem. The helmet comes with a Pinlock insert and so should ensure mist free riding. Whilst this works well I have a problem with my glasses steaming over at speeds lower than 50mph with the visor in the locked position. I believe this may be due to inadequate face ventilation and has been improved on in the pro version. There are reports that the top vent ca attract bugs and some owners have made mesh covers for theirs. I think this would be a greater issue in warmer climates. Again this is a problem that has been resolved in the new version. Buffeting. The helmet has great aerodynamics and I get far less buffeting than previously. Schuberth is one of the few manufacturers that have their own wind tunnel and this shows. The Pro has a new lip at the back which is there to assist sport riders. I don't use an intercom system. The Pro has built in FM aerial and Bluetooth antenna for their own system which just replaces the collar and provides intercom, telephone and radio. Verdict. I am happy with the C3 and it is a great helmet at a great price. However, if I were to purchase again and had the money I would choose the Pro version as they have listened to customer feedback and improved on all the little niggles that customers had.
Aidan Blunt - Chorley
PLEASE NOTE: The views and opinions expressed in the above reviews are solely those of the author and are not necessarily representative of the views of SPORTSBIKESHOP LTD.