+44 (0)1205 360099








Departments Filters Applied Refine Your Results

Flip Up Helmets
Flip up motorcycle helmets
We now have over 4000 helmets in stock ready for next day delivery and our range of flip up helmets is second to none. When it comes to brands, we have every single name worth considering and a price point to suit every budget, just make sure you use our 360 degree helmet spins when you're choosing. We have 2 spins for every flip up helmet, 1 to show the helmet closed and one to show it open. We really have got helmets covered!
Recent Product Reviews
---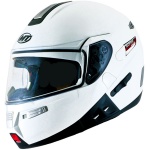 - August 30, 2014
Excellent value for money
Having had a lot of helmets, I was quite anxious about buying online. As there was no motorcycle shops near by that stocked this brand of helmet to try on. After reading the returns policy that Sportsbikeshop offered, it made it an easy decision to just place my order. The helmet arrived in good time and I was able to track it to my door. As regards to my purchase it fitted like a glove, extremely comfortable and for a flip up it is surprisingly quiet at speed with no buffering. For a budget helmet it offers a lot of quality. I would recommend this to anybody.
Todd Death - Congleton


- August 30, 2014
Spot on
I have recently purchased this. After the first issues of "not being on stock" it finally arrived before the predicted waiting period. It seemed a little too tight at first but testing it for an hour while doing chores around the house it become very snug and comfy. The built in visor and the one-click flip-up works perfectly even with gloves on. A little heavy for my liking but on a cruiser sitting upright it's not a disadvantage.
Gabor Danko - Cardiff


- August 30, 2014
Excellent all round
Very pleased with the fit and finish of this helmet, could be described as noisy, depending which bike I am on, but no more than my Shoei Neotec and fine with Pinlock ear plugs purchased around the same time. Has all the features of my Shoei and all work well. Was especially impressed with the small clip to hold the microphone boom in place, something that the Shoei doesn't have. Great value for money in my opinion.
Jerry Richardson - Nottingham
PLEASE NOTE: The views and opinions expressed in the above reviews are solely those of the author and are not necessarily representative of the views of SPORTSBIKESHOP LTD.