+44 (0)1205 360099








Departments Filters Applied Refine Your Results

Motorcycle Jackets
Leather & Textile Motorbike Jackets
Finding the right motorcycle jacket is essential which is why we stock every brand & style of motorbike jacket you could ever want. Whether it's a long, all weather GoreTex jacket or a short, summer sports jacket, we'll definitely have what you're looking for. We always have the latest styles of both textile & leather jackets and if it's a bargain you're after, check out our clearance section where you'll find some unbelievable deals.
Recent Product Reviews
---


- November 25, 2014
Excellent company
I have now got The RST Blade Gloves-Love them, and now This Tractech Jacket and I love this too. It fits well, nice size (make sure you buy one size up). The only thing I don't fully like is the 'sleeves'. They are a bit too long and don't open up enough to fit the glove inside or are small enough to fit the glove easily on the outside. But I can live with that just fine. Also, I like the way that the armour does no get in the way when you put on a rucksack.
Mihai Popescu - Tilbury


- November 25, 2014
Great coat
Great coat. Could be considered a bit on the short size when you get into the larger sizes (being 6ft 3, that's probably my fault), but long coats are available elsewhere. Very warm (kept me cozy while riding at 5 Celsius) and seems water proof, but not tried it in heavy downpour.
Alexander Martin - Sheffield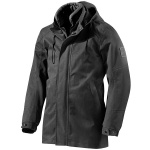 - November 24, 2014
Warm and totally waterproof
This isn't a cheap jacket but it's been relentlessly raining of late on the south coast and I can attest to the fact that not a drop gets through the gore-tex. With the thermal liner removed, it's good for the warmer seasons and with it in, it's a very snug coat, totally windproof. My only gripe is that the pockets are lined with thin nylon and I can imagine that being the first thing to go. It's a lovely coat though. I've added the Seesoft back protector for extra protection.
JP - Brighton
PLEASE NOTE: The views and opinions expressed in the above reviews are solely those of the author and are not necessarily representative of the views of SPORTSBIKESHOP LTD.