+44 (0)1205 360099








Departments Filters Applied Refine Your Results

Thermal Motorcycle Gloves
Thermal motorbike gloves
If there's one thing you can definitely rely on it's the British weather, making thermal motorcycle gloves a must for riding all year round. Our range of thermal bike gloves is now more inclusive than ever with every brand out there worth considering and if it's value you're after, our thermal range starts at only £22.95. If you're looking for the latest glove technology, we now stock the full range of Held gloves.
Recent Product Reviews
---


- March 2, 2015
5* winter glove
These gloves are the best bit of gear I have, bar none! The way which they are easily wired up to the bike makes it possible for someone, like me, with no knowledge able to set them up. Clear instructions and it's only two cables. Keeps hands nice and warm meaning riding in the cold is much more enjoyable. Best matched with the Exo2 jacket.
Nigel Slyth - Billericay


- March 2, 2015
No numb fingers
Got these to back up my Race gloves for those cold Sunday morning blasts and track mornings on the bike. I don't have heated grips so these needed to do a good job and I'm pleased to say they work perfect. Yes they are small, so buy at leased 1 size up. I'm normally a L-XL and the XXL fit me perfect. They are a little bulky of you are used to single layer sports gloves, but once I got used to the extra thickness they were fine. Plus, after getting caught in a shower at about 4C at 70mph on the way home the waterproofing and thermal properties were very welcome. Just wished the rest of my kit was as warm and dry. Only had them 2 weeks and no problems yet but they look and feel sturdy enough to last a long time. Good stitching, material and padding in the right places look like they will do well in a meeting with tarmac. Nice little touches like the button pointer on the index finger are good considering these are not the cheapest gloves. All in all very pleased with them and looking forward to going "all weather" when I get my adventure bike.
Matthew Surrey - Carterton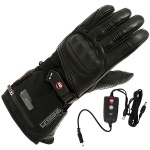 - February 25, 2015
Quality gloves
I am pleased with the quality construction of gloves. They are quite bulky, particularly with the battery packs installed & take a bit of time to work over the cuffs of my jacket as the glove opening is quite narrow & makes a tight fit over sleeves of winter jacket. Using them without batteries, connected to the junior controller they are much quicker to put on. I haven't bothered running the cables through my jacket sleeves, as having done this with previous heated gloves I had to make a hole in material to run the cable to connect to gloves. I have used Velcro to attach controller to tank & bundled up surplus cable with twist tie, much quicker to get on & off bike & controller is easily reached whilst riding. I tried Oxford gloves previously which didn't provide anywhere near the heating effect of these. Also the Gerbing lifetime guarantee on the elements prompted me to part with my pocket money (a friend of mine had some problems with his gloves & Gerbing replaced them, no problem. So far so good! Sportsbikeshop's service is excellent, best price, quick delivery & a second controller thrown in.
Clive Cook - Bromley
PLEASE NOTE: The views and opinions expressed in the above reviews are solely those of the author and are not necessarily representative of the views of SPORTSBIKESHOP LTD.