+44 (0)1205 360099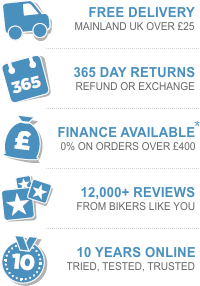 Schuberth C3 Pro SRC Bluetooth Communication System
Bluetooth headset with Vox technology for the C3 Pro
Tip: Select option from menu above for stock availability
Schuberth C3 Pro SRC Bluetooth Communication System
This Schuberth SRC system is a rider communication system which can be fitted into the Schuberth C3 Pro helmet enabling rider communications. This device can be fitted within the acoustic collar of the C3 Pro and features a wide range of functions. The SRC system enables rider to passenger intercom, bike to bike intercom, mobile phone and GPS connection. With Automatic Gain Control (AGC) the system also adjusts the volume automatically according to the background noise - sensitivity can be configured individually with the software supplied. Making full use of the Antennae within the C3 Pro, VHF radio reception with RDS is possible with high-speed selection of the six strongest radio channels in the vicinity at the press of a button. The SRC works by the plug and play principle allowing the user to fit the device quickly and easily. Two sizes are available, choose the size that matches the size of your C3 Pro helmet.


Helmet Size
SRC System Size
XS : 52 - 53
Small
S : 54 - 55
Small
M : 56 - 57
Small
L : 58 - 59
Small
XL : 60 - 61
Large
XXL : 62 - 63
Large
For detailed description and instruction visit the Schuberth website
Fitting instructions included
Conference call between up to 3 bikes
VOX technology voice control
Dual ultra-slim speakers
Complete with charger, USB & MP3 cable
Does not effect the size of your helmet
Up to 6 days standby
Maximum range of 300 meters
Up to 10 hours of use
VHF & RDS radio broadcasting using the C3 Pro antennae
Easy to install
Connects with mobile phone, sat-nav and MP3 players
View Similar Products
Customer Reviews
Reviews for the Schuberth C3 Pro SRC Bluetooth Communication System

- March 14, 2013
Volume and clarity of the speakers are superior
Before I got this I was using a full face Caberg V2 Carbon with a Scala Q2 bluetooth nice system but found the volume a little lacking at speeds over 40 mph. I now have the C3pro SRC bluetooth system that I got same time as my C3pro helmet. After fitting the unit was very surprised with how easy it was to use. Much the same as the Q2 but the volume and clarity of the speakers are far superior.
Iain - Scotland

- February 13, 2013
Superb quality
I recently had the Scala Rider G9 Powerset which I thought was really good however I have to say the sound quality from the SRC is brilliant. I was able to fit in a matter of minutes without any fuss. I have the Schuberth C3 Pro also purchased from Sportsbikeshop which is by far the best helmet I've owned. It's light and comfortable and is a really snug fit and complimented by the SRC is awesome. Sportsbikeshop were brilliant with changing helmets until I got the perfect fit. I would definitely recommend and will continue to shop via their site.
Richard Shields - Cumbernauld

- October 31, 2012
Better than a Nolan Headset
This would have been 5 out of 5 but at present I am unable to update the settings via my PC. Schuberth have taken over a week and still not answered. I am therefore torn between a 3 and a 4. It is better than average so 4. As I cannot update via a PC I am missing out on a number of features and adjustments and tuning the pre-sets on the radio takes forever just using the headset. The headset is well built and comfortable. I ride with Injection ear pods so a loud headset is a must. Thankfully I can have this turned down 2 from its loudest setting and hear it OK. The radio reception is very good. I had a similar set up on my Nolan but the radio was poor and the volume was not great. The difference is like night and day I have tried to use without my pods in and the volume is v loud but I find this an uncomfortable way to ride as you use the radio to drown out the road noise. Easy to install but I do not know why Velcro.
Gavin Beynon - East Grinstead
Questions & Answers
No questions or answers have been posted for this product.
Recently Viewed Items


Schuberth C3 Pro SRC Bluetooth Communication System