+44 (0)1205 360099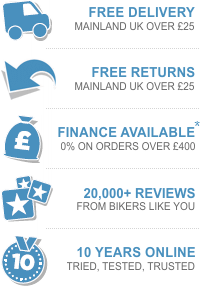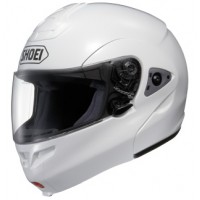 Shoei Multitec - White
The pinnacle of flip-up helmet design & technology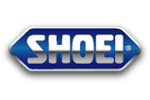 Our price $492.85 $646.87
Quick find: 23308
Sorry, this item is no longer available.
Shoei Multitec - White
A shell design which not only delivers a sporty and luxurious look, but decreased wind resistance and improved aerodynamics as well. An aero spoiler has been included in the shell design to reduce lift and the resulting neck fatigue at high speed. Flip up helmets suffer a handicap in noise when compared to traditional full face helmets. The seams between the face cover and the body of the helmet create turbulence and noise. Every effort has been made to minimize this turbulence on the Multitec. From smoothing and tightening the tolerances of the seams, to covering the face cover pivot axis, noise reduction was a key goal in the design of the Multitec. When you combine these new features with Shoei's often copied coverless Quick Release Base Plate system, you get the quietest flip up helmet available today!
Removable Cheekpads
Lightweight, Advanced Integrated Matrix (AIM) Shell
CX-1V shield - Clear
CX-1V sheild - Mellow Smoke
Preset shield opening lever with locking mechanism
Integrated breath guard
Chin curtain
Neck outlet
3D Comfort liner
Adjustable upper vent
Quick release base plate system
Cheek pad slits for eyeglasses
Shell integrated spoiler
Pinlock visor insert
Mellow smoke spare visor
Whisper kit
1 Year Warranty From Purchase Date
View Similar Products
Customer Reviews
Reviews for the Shoei Multitec White

- November 6, 2011
Superb Shoei flip up
Third one of these I've bought: first dropped, second stolen. Great in town with front up, secure, comfortable. Costly but feels good wearing it. Mist attachment works and ever had a problem with vision or misting up.
Peter Bale - London

- March 30, 2010
Great product, would recommend to others
Shoei helmets is always the "top of the line". I tried this product at a dealer here in Sweden, to get the size right. Then I ordered it from Sportbikeshop and saved a lot of money! I´ve already recommended this shop for my mates and I would definitely without hesitation, by a helmet or other products at this webshop again!
Mathias Franzén - Påskallavik

- August 9, 2008
Excellent Helmet
Bought this just before I went touring the Alps - after 3000 miles this was amazingly quiet (far better than the Raid 2) - I didn't wear earplugs the whole time, even on fast runs. The additional smoke visor was a bonus as well as the polish and cleaner. Being able to flip lid or visor stopped me from frying; much better in cities than a full (closed) face helmet.
Anonymous - Bangor
View all 6 reviews
About our reviews
Questions & Answers
No questions or answers have been posted for this product.
Recently Viewed Items


Shoei Multitec - White