+44 (0)1205 360099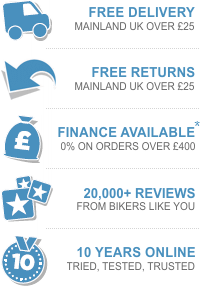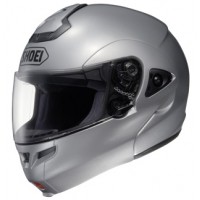 Shoei Multitec - Light Silver
The pinnacle of flip-up helmet design & technology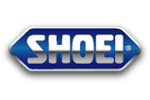 Our price $424.36 $648.13
Quick find: 23314
Sorry, this item is no longer available.
Shoei Multitec - Light Silver
A shell design which not only delivers a sporty and luxurious look, but decreased wind resistance and improved aerodynamics as well. An aero spoiler has been included in the shell design to reduce lift and the resulting neck fatigue at high speed. Flip up helmets suffer a handicap in noise when compared to traditional full face helmets. The seams between the face cover and the body of the helmet create turbulence and noise. Every effort has been made to minimize this turbulence on the Multitec. From smoothing and tightening the tolerances of the seams, to covering the face cover pivot axis, noise reduction was a key goal in the design of the Multitec. When you combine these new features with Shoei's often copied coverless Quick Release Base Plate system, you get the quietest flip up helmet available today!
Removable Cheekpads
Lightweight, Advanced Integrated Matrix (AIM) Shell
CX-1V shield - Clear
CX-1V sheild - Mellow Smoke
Preset shield opening lever with locking mechanism
Integrated breath guard
Chin curtain
Neck outlet
3D Comfort liner
Adjustable upper vent
Quick release base plate system
Cheek pad slits for eyeglasses
Shell integrated spoiler
Pinlock visor insert
Mellow smoke spare visor
Whisper kit
1 Year Warranty From Purchase Date
View Similar Products
Customer Reviews
Reviews for the Shoei Multitec Light Silver

- February 20, 2009
Recommended
Only 3 stars in SHARP testing but has ACU gold label. Comparatively expensive, but fit, comfort and quality much better than other helmets I tried. Very easy to use. Has no integral sun visor but pinlock anti-fog system, which may be more important for biking in the UK anyway. Using X-Spirit for fast touring and track, so Multitec will mostly be used arounf town. Sportsbikeshop have provided great service and quick delivery, as always. They are definitely my first port of call for motorcycling requirements.
Gregor - London

- January 30, 2009
Great product
Good very good product.
Leonetto Pierotti - Fornoli

- August 29, 2008
Great product, would recommend to others
Very comfortable helmet: I would advise anyone to make full use of the extras to obtain maximum performance.
Anonymous - Yeovil
View all 9 reviews
About our reviews
Questions & Answers
No questions or answers have been posted for this product.
Recently Viewed Items


Shoei Multitec - Light Silver