+44 (0)1205 360099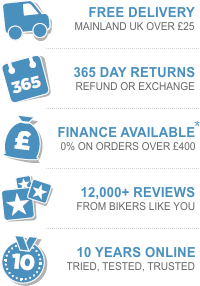 Arrow Exhaust - Honda CBR1000 RR Fireblade
RR8 / RR9 / RA9 / RR10 / RR11 - (08-11)
Tip: Select option from menu above for stock availability
Product Options
| Option | Description | Price |
| --- | --- | --- |
| 1 | Titanium Prism shape race silencer to fit original pipes, not for road use (retains cat) | £534.28 |
| 2 | Titanium/Carbon Prism shape race silencer to fit original pipes, not for road use (retains cat) | £598.09 |
| 3 | GP2 Titanium Race Silencer with stainless steel mid-pipe (removes cat.) | £381.36 |
| 4 | Road approved titanium silencer with baffle to fit original pipes (retains cat.) | £468.72 |
| 5 | Road apprvd titanium+carbon fibre silencer + baffle to fit original pipes (retains cat) | £512.44 |
| 6 | Road approved carbon fibre silencer with baffle to fit original pipes (retains cat.) | £450.24 |
| 7 | Road approved all carbon fibre silencer with baffle to fit original pipes (retains cat.) | £493.92 |
| 8 | Road apprvd aluminium silencer+baffle to fit original pipes (retains cat) | £354.50 |
| 9 | Road approved aluminium/carbon silencer with baffle to fit original pipes (retains cat.) | £408.25 |
| 10 | Road approved Dark Line aluminium/carbon silencer with baffle to fit original pipes (retains cat.) | £408.25 |
| 11 | Full system with titanium Prism shape race silencer, not for road use (removes cat.) | £945.86 |
| 12 | Full system with titanium/carbon Prism shape race silencer, not for road use (removes cat.) | £1,009.68 |
| 13 | Full system with road approved titanium silencer with baffle (removes cat.) | £880.32 |
| 14 | Full system with road approved titanium + carbon fibre silencer with baffle (removes cat.) | £924.02 |
| 15 | Full system with road approved carbon fibre silencer with baffle (removes cat.) | £861.84 |
| 16 | Full system with road approved all carbon fibre silencer with baffle (removes cat.) | £905.52 |
| 17 | Full system with road approved aluminium silencer with baffle (removes cat.) | £766.09 |
| 18 | Full system with road approved aluminium/carbon silencer with baffle (removes cat.) | £819.94 |
| 19 | Full system with road approved Dark Line aluminium/carbon silencer with baffle (removes cat.) | £819.94 |
| 20 | Pro Racing system with titanium/carbon prism shape silencer, not for road use | £1,312.08 |
Arrow Exhaust - Honda CBR1000 RR Fireblade
NOTE Images are for illustration purposes only.
View Similar Products
Customer Reviews
Reviews for the Arrow Exhaust Honda CBR1000 RR Fireblade
No reviews have been posted for this product.
Questions & Answers
Q. If I fit an aftermarket Arrow exhaust do I need to fit anything else to make it work properly ie power commander etc? - 18/08/11
A. Road approved Arrow systems are marketed as a "plug and play" system and should not require additional components to perform correctly.
Recently Viewed Items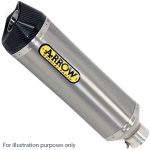 Arrow Exhaust - Honda CBR1000 RR Fireblade