+44 (0)1205 360099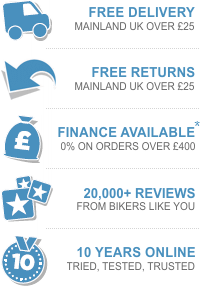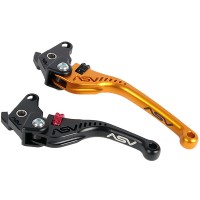 ASV Clutch Levers - CRC552
Unbreakable, guaranteed not to break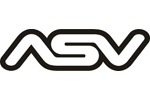 Our price $105.68 $118.96
Quick find: 59720
Tip: Select option from menu above for stock availability
ASV Clutch Levers - CRC552
All ASV levers feature a special pivot design that allows the lever to fold out of the way in the event of a crash or topple. They simply pivot outwards and spring back. The pivot junction is precision sealed with zero play or slop. Also, by simply adjusting a setscrew on the lever the reach can be adjusted to accommodate different sized hands and tune for the ideal brake and clutch response. With each lever fitting a wide range of bikes you will most likely be able to keep the same levers regardless of how often you change your bike. There is also the option of different coloured adjuster wheels and rotator clamps to match your levers and/or bike.
Choice of colour and size
Shorty levers 1-1/4" shorter than standard
Unbreakable, guaranteed not to break
Fully adjustable reach
Wide compatibility
View Similar Products
Customer Reviews
Reviews for the ASV Clutch Levers CRC552

- October 28, 2014
Definitive upgrade
Functionally, these are very similar to OEM levers with the exception of the reach which is significantly more adjustable. Aesthetically, there is no comparison. These look fantastic. Installation is where this product loses a star. The documentation specifically instructed me NOT to install the supplied cylinder pin. This left me with all sorts of clutch slip issues so I swapped out the OEM for the supplied pin and my issues were no more.
Laurie Mclaughlin - Alloa

- February 3, 2014
Great looking product
This product looks great, and the range of adjustment is a big improvement over the OE levers. Unlike a lot of pattern levers it also engages the clutch microswitch, making recovering from stalls much quicker and easier. My only gripe with the product was that installation was a little fiddly, the instructions were clear, but a second pair of hands would have made it slightly easier. Since you need to pull the lever right back to the handlebar while inserting the bolt from above and a very snugly fitting spacer from below. The slight fiddliness is the only thing that prevents me giving a 5* rating.
Andrew Johnston - Buckingham
About our reviews
Questions & Answers
No questions or answers have been posted for this product.
Recently Viewed Items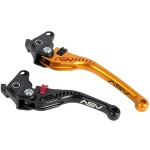 ASV Clutch Levers - CRC552