+44 (0)1205 360099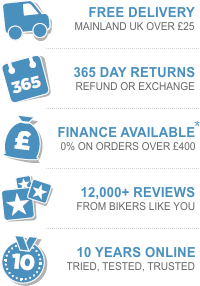 Hyperpro Rear Shock - Honda NT700V Deauville
V6 / V7 / V8 / V9 - (06-07)
Tip: Select option from menu above for stock availability
Product Options
| Option | Description | Price |
| --- | --- | --- |
| 1 | Shock Absorber - Emulsion | £371.45 |
| 2 | Shock Absorber - Emulsion Inc. Remote Hydraulic Pre-load Adjuster | £561.45 |
| 3 | Shock Absorber - Emulsion: + weight compensation | £447.45 |
| 4 | Shock Absorber - Emulsion Inc. Remote Hydraulic Pre-load Adjuster: + weight compensation | £637.45 |
Hyperpro Rear Shock - Honda NT700V Deauville
NOTE If rider over 105kg or carrying passenger/luggage more than 50% of the time, please choose one of the '+ weight compensation' options. This product is custom made to each individual. Please supply us with the following information:

1. Linear or progressive spring
2. Weight of the rider
3. Weight of pillion / luggage (if on the bike for more than 50% of the time)
4. Purple or black spring

A new motorbike is an expensive purchase. This however does not guarantee that every part on the bike is of good quality. In our experience we found that manufacturers cut costs by using cheaper shocks. Quite inappropriate, considering the shocks ensure the tyres keep contact with the road surface.
CNC machined aircraft alloy body
50 click rebound adjustment
Optional high/low speed compression
Integrated heat compensation
Optional hydraulic preload adjuster
View Similar Products
Recently Viewed Items


Hyperpro Rear Shock - Honda NT700V Deauville