+44 (0)1205 360099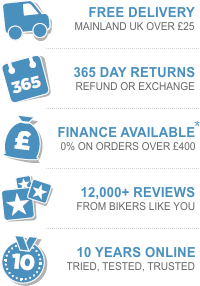 Rev'it TT 1 Piece Leather Suit - Black / White
Leather suit with armour and removable liner
Sorry, this item is no longer available.
Rev'it TT 1 Piece Leather Suit - Black / White
Experience in MotoGP led to our design of the lightweight TT one piece race suit. Its shape and construction are based upon Honda LCR rider Randy de Puniet's suit during the 2008 MotoGP season, which was fully customized by Rev'it. The highest quality leathers available combine to make the pre shaped TT one piece one of the best performers on the market. With recent advancements in the ventilated speed hump, a unique elbow pad and a greatly improved knee slider, the TT offers a higher than ever level of protection.



Monaco Performance & Augustini cowhide
Dual-comp protector at shoulder & elbows
Dual-comp knee sliders (type A)
Temper-foam at back and hips
Double leather seat
Comfort collar and cuffs
ProLife armour at shoulders, elbows & knees
Stretch panels at shoulders, back, elbows & knees
Ventilation panels at chest, back, arms & legs
Ventilated race hump
Removable lining
Inner pocket
View Similar Products
Recently Viewed Items


Rev'it TT 1 Piece Leather Suit - Black / White