+44 (0)1205 360099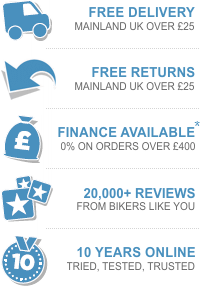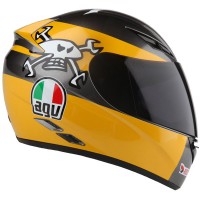 AGV K3 Guy Martin
Aggressively styled thermoplastic road helmet

Our price $199.72 $268.85
Quick find: 85616
Sorry, this item is no longer available.
AGV K3 Guy Martin
The K3 is AGV's entry level full face helmet and is designed to offer a rider on a budget the experience of owning a premium product. The AGV K3 has a very high specification and is packed with features such as a quick release micro-metric buckle and a clear, anti-scratch & anti-fog polycarbonate Street 8 visor. The K3 uses AGV's proven HIR-TH (high resistant thermoplastic) resin shell construction, this shell is very strong and has excellent shock absorbing properties, however the manufacturing process is much quicker and simpler than an equivalent fibreglass shell. This ultimately is reflected in the price of the helmet enabling riders on a budget to have an exceptionally safe and well made product at the fraction of the price you would expect to pay for a premium branded helmet.

Painted thermoplastic resin construction
Dynamic system with air intakes
Dry Lex fabric with hygienic treatment
Removable and washable lining
Clear anti-scratch / fog visor
XQRS shield replacement without tools
Micro-metric retention system
View Similar Products
Customer Reviews
Reviews for the AGV K3 Guy Martin

- May 12, 2013
Great helmet
Great quality helmet from AGV. Awesome design, a must for Guy Martin fans. Fits perfectly and is very quiet. Just great & the service was awesome too.
Paula - Sevenoaks

- March 2, 2013
It's the start of a new mind actually......
Nothing clever needed. Just excellent service from Sportsbikeshop and a great product. That's all we want. Thank you.
Ilford - dorset

- February 17, 2013
By 'eck chief.
Fantastic looking Guy Martin replica helmet. Lost count how many times I measured my head before ordering a large but it fits perfectly. Very easy to use the quick release chin buckle. I haven't found it to be noisy. Visor is very easy to use, does not mist up lots of air vents. A pleasure to deal with Sportsbikeshop, ordering and delivery excellent as always.
Stewart Hale - Walsall
About our reviews
Questions & Answers
Q. What's the official safety rating if this helmet?? I would like 1, however I wanted a 5 sat safety rating! Thanks - 04/08/12
A. This helmet has a 4 star Sharp rating.
Q. Is this a quiet helmet? - 28/05/12
A. We have mixed reviews on the K3 regarding noise levels. Some customers find them a little noisier than their previous helmets while others find them quieter! Obviously, many variables affect a helmet s noise level,ie naked or faired bike, screen level, neck tube etc.
Q. Is this helmet gold or orange? - 23/05/12
A. The helmet is supplied in 'Guy Martin yellow'.
Q. Where it states the helmets are sold with clear visors as standard, are the dark visors also included? - 19/04/12
A. The AGV K3 Guy Martin is supplied with a clear visor only. Dark tinted visors are available to purchase separately through our website.
Q. Is this the helmet featured in MCN this week ? Yellow/Black with Skull/Spanner and House Martin logos. Thanks. - 10/04/12
A. Yes, its the same helmet.
Recently Viewed Items


AGV K3 Guy Martin