+44 (0)1205 360099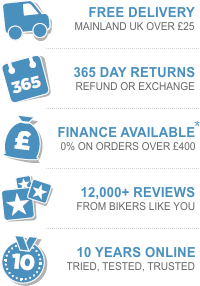 SENA SMH10 Dual Bluetooth Headset & Intercom
Easy to use and fit Bluetooth headset and intercom dual set
Despatched same day if ordered before 3pm (Mon-Fri)
SENA SMH10 Dual Bluetooth Headset & Intercom
The SENA SMH10 Dual Set comprises two stand alone sets of the single SMH10, a Bluetooth v2.1 (upgradable to current version via SENA website) Stereo Headset with long-range Bluetooth Intercom designed specifically for motorcycles. With the SMH10, you can call handsfree on your Bluetooth mobile phone, listen to stereo music or voice instructions from your GPS unit wirelessly via Bluetooth, and, straight out of the dual box, enjoy intercom conversations in full duplex with a passenger or another motorcycle rider - more if others are equipped the same.
Thanks to the latest Bluetooth and the advanced digital processing technology, the SMH10 offers the best sound quality for both incoming and outgoing sound in its class. Also, the easy-to-access and intuitive button operations make the SMH10 a perfect companion for motorcycles.
Box contains two sets of the single box contents including two each of the main unit, speaker-microphone clamp unit, DC charger, USB power cable, cigarette charger, 3.5mm stereo audio jack cable, glued surface mounting adaptor, microphone sponges, Velcro pads, hex key (Allen wrench), speaker pads, and microphone cap.
Bluetooth specification v2.1 (upgradable to current version via SENA website including firmware manager for either PC or Mac)
Bluetooth intercom up to 900 meters (980 yards) in open terrain
Multi-pair Bluetooth intercom for up to four persons
Conference phone call with intercom participant
Multipoint for mobile phone plus GPS
Voice prompts
Bluetooth stereo headset for Bluetooth audio devices such as MP3 players
Bluetooth music playback control by AVRCP: play, pause, track forward and track back
Easy operation by versatile Jog Dial (Patent Pending)
Sufficient sound level with integrated audio booster
Bluetooth handsfree for Bluetooth mobile phones
Bluetooth headset or stereo headset for Bluetooth GPS navigations
Stereo music by 3.5mm audio cable
Water resistant for use in inclement weather
Crystal clear and natural sound quality
Up to 12 hours talk time, 10 days stand-by time
Can be used while charging on road trips
Individual volume control for each audio source
Firmware upgradeable
2 year warranty
View Similar Products
Customer Reviews
Reviews for the SENA SMH10 Dual Bluetooth Headset & Intercom

- May 15, 2013
Very quick and great product
Awesome product great from the start. Easy to set up. Only thing is that the information on the website is now out of date. The product you receive has the latest update 4.1 which lets you conference with up to 4 other devices. Sound quality is amazing, takes a little bit of a while to get speakers positioned correctly and voices heard clearly at over 80 mph.
Nathan - Wiltshire

- April 6, 2013
Quick and easy to install
Quick and easy to install, less cables to hide than other systems I've tried. Very good feature set, well above others in the same price range.
David W - Falkirk

- October 17, 2012
Great product - does all you need it to do
Surprisingly easy to install. Worked great as an intercom and to play music. Speakers are good quality and the jog dial is easy to use. Upgrading the firmware could be much easier (we are mac users) and that would have given five stars - we managed it though with very responsive help from the customer service centre. Phone calls are difficult with the wind noise, but that wasn't our criteria. Intercom works brilliantly including at normal highway speeds.
Anonymous - London
View all 4 reviews
Questions & Answers
Q. Is the V2 bluetooth upgradeable to V3 on the web site ?? - 03/01/13
A. We believe it is possible to upgrade the firmware to V3 using their software upgrade manager.
Recently Viewed Items


SENA SMH10 Dual Bluetooth Headset & Intercom