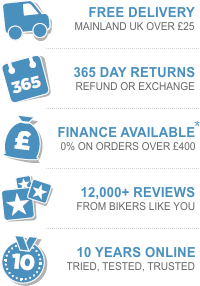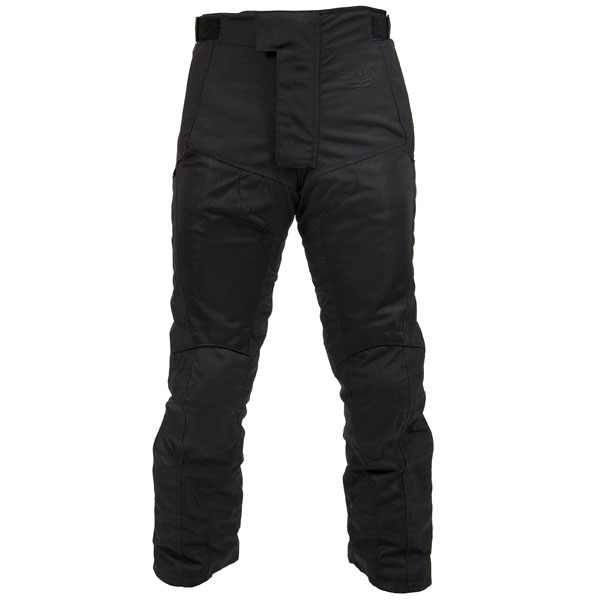 Weise Air Tech / Spin Pants
Customer Product Reviews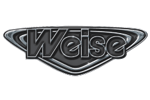 View Product Details

- November 22, 2014
Really good fit
Decent waterproof trousers. Ordered XL for a 36" waist and there's plenty of room for trousers underneath. The armour is just in the right place as well and it zips into my Spada jacket.
Patrick Bourke

- Scunthorpe

- April 28, 2014
Good trousers
Nice, well vented. Waist band adjustment makes for good fit. Well made, but a little loose at the ankles. The Velcro tabs there are ineffective.
Anonymous

- Coventry

- April 26, 2014
Great fit
Reasonably priced and high quality. I'm a 5'7, sub 9 stone guy. As a result, I sometimes fit outside the average sizes. These proved to be a great fit, and the waist adjustment makes them snug and comfortable. Unlike some textiles, they don't feel baggy or having too much excess material. The hip armour is an additional bonus, and, once you have it seated a little lower (in my case), you won't notice it on the road.
Anonymous

- Peterborough

- March 13, 2014
Great value
Well made, comfortable and warm so great for all weather bikers. My only complaint is the Velcro fastening at the bottom of the legs doesn't always stay put for me. But then I always struggle with the technical stuff.
Stuart

- St Day, Redruth

- February 24, 2014
Good trousers
Seem to be fairly waterproof and keep me dry. Can wear normal jeans underneath them no prob if going to work. Fairly warm and comfortable. I'm probably somewhere between a 34 and 36 inch waist. I bought the XL at first so I would be able to wear jeans underneath. They were way too big, so changed for L, which is a way better and I can wear normal jeans underneath no problem.
Anonymous

- Oxford

- January 28, 2014
Good product
Comfortable trousers and a good length. Large fit over jeans etc. I am a 32-34 inch waist. Adjustable waist.
Nigel Lane

- Bristol

- January 12, 2014
Great trousers
Really good trousers for riding in the cold although could have done with them being an inch or so longer (at 6'1, my normal trousers poke out the bottom and get slightly wet). That said, would recommend them and they are comfortable to ride in.
Andrew Meeds

- Boston

- August 30, 2013
Very good product
They fit very well, comfortable. A bit too long but the quality is good.
Denisa Hoarca

- London

- September 29, 2012
Good all round trousers
Good trousers especially for the price. Wish they had options of longer legs as I'm 6'3, however they provide good protection and fit round the hips without slipping well. They could also do with being a little bit warmer for the weather we've been having recently. As always great service from SBS.
Nate V

- Farnham

- June 22, 2012
Good product, as expected - no complaints
These have great protection for such trousers and are excellent in wet/cold conditions with the liner. Good air flow without, which makes these great for warm conditions.
Simon

- Bristol

- September 19, 2011
Excellent wet weather trousers
I brought the trousers to go with my Weise jacket. I've used them several times in heavy rain and they worked really well. Light, waterproof and most importantly they don't restrict your movement.
Guy Phillips

- Helston

- May 3, 2011
Great trousers
Needed some summer bottoms to go with my Weise jacket and these are nice and light. Yet to really try them out on my planned summer trip to Europe!
Stephen Dyson

- Telford

- April 11, 2011
Great for the warm summer months
Well constructed, and keep the legs brilliantly ventilated, especially useful over the last few days! Would have preferrred some elastication in the waist, and more velcro (or better attachment) at the bottom of the leg, as they do tend to ride up over the boot. Generally however, a good buy.
Steve Parsons

- Newbury

- April 8, 2011
Comfy pants, would recommend
Well made product, great value but the zip for connecting jacket doesn't work.....otherwise would of got 5 stars
Anonymous

- Norfolk

- September 11, 2010
Great quality
Like the matching jacket, these trousers are of good quality and are comfortable to wear. Only minor niggle is that the zip is not compatible with the jacket as it should be but this is not really a problem as I wear them separately anyway. Lots of adjustment to keep them snug which is good.
Matthew Parker

- Southampton

- July 22, 2010
At last protective jeans for a warm climate
Look good, breathes, and comfortable to wear, fits over my boots very well. Knee armour needs adjustment to fold correctly. This is the first set of jeans I can wear in Queensland - they are cool!
Philip Gray

- Fig Tree Pocket

- April 22, 2010
Great trousers
Trousers are great. Waterproof lining is lightweight and easy to remove. Definitely summer trousers as they do let a lot of air in which is great for summer days and nights, not neccesarily winter. Very comfortable though
Jeff

- London

- January 12, 2010
Good kit
GOOD service from the shop and excellent pair of pants
Paul Burton

- Newtownabbey
PLEASE NOTE: The views and opinions expressed in the above reviews are solely those of the author and are not necessarily representative of the views of SPORTSBIKESHOP LTD.