+44 (0)1205 360099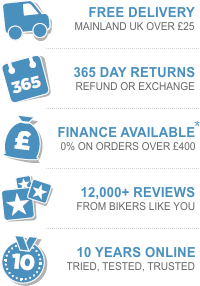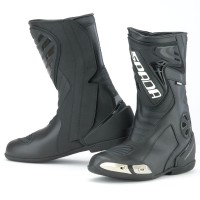 Spada Predator WP Boots - Black
Customer Product Reviews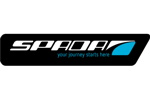 Our price £99.95
View Product Details

- May 17, 2013
Impressed
I've been waring these boots every day for a couple of weeks now, and I'm very happy with them. Good solid boot at a really good price. They're supple enough to get a good feel for my clutch pedal. I bought a size 45, I usually wear a size 10 1/2 in pretty much most shoes and found them roomy if not a little large, but this is not a problem with spare socks on.
Jaye Christie - Aberdeen

- May 11, 2013
Value for money
Very comfortable and warm. Ordered a size larger than shoes as my feet are quite broad. Snug fit.
Andrew Pace - Harrogate

- January 18, 2013
Spada Predator Boots - Super buy!
Very quick and secure delivery. Thoroughly pleased by the quality of these boots at a bargain price (I would easily have paid more for these); they look the business, excellent ankle protection and were extremely comfortable from first wear - a perfect fit and will no doubt be ideal for the summer (because they're waterproof!) Many thanks Sportsbikeshop!
Stephen Welch - Exmouth

- December 21, 2012
Great product
Great boot, like putting on a pair of old slippers. That is now I'v got the right size. Normally I'm a 43 which were too small, so changed for a 44 and fit perfect, with plenty of room for a pair of thick socks. Boot quality is excellent, Velcro fasteners mean you can get a perfect fit around the calf and they appear to be very waterproof. Only used them a couple of times. For this price, you can't go wrong!
Paul K - Manchester

- December 17, 2012
Quite comfortable
Comfortable and easy to walk in too.
Julie Farley - Burnley

- August 16, 2012
Great Product - I would recommend them to others
I ordered a size bigger than I normally take in shoes and they were very comfortable from the first time I put them on. Got caught in some heavy rain on the first time of wearing them on my bike and they were indeed waterproof! Good product, comfortable to wear, stylish and at a good price.
Simon W. - Ayr

- July 18, 2012
Very good boot indeed
The first time I wore this boot was for the whole day during my CBT. I was expecting my feet to be a little sore or aching but once I took them off it felt like I hadn't had them on. Great boot & very comfortable. Well worth the money.
Scott - Harlow

- May 10, 2012
Excellent product I would highly recommend it.
I bought these boots for my husband for his birthday as a surprise and went by his shoes size. The boots were an excellent fit very stylish and he was very pleased with them. They were very comfortable and match his Spada jacket which he also bought from you. He looks great and feels good
Barbara Stennett - Bungay

- February 28, 2012
On my third pair
Great boot, comfy, good water proofing, looks good imo. On my third pair as I seem to wear through left boots really quickly. Minor point is that the toe plates do shake loose but are easily tightened.
Jack Marshall - Wrexham

- February 6, 2012
Great buy
Very good boots, really comfortable and they look good !!!
Paul Lord - Liverpool

- February 3, 2012
Great value!
Excellent quality, just as good as the other more expensive options. Completely waterproof, been out in the recent stormy weather and my feet have been bone dry. Only downside is they are quite tight around the calves especially if you tuck your jeans in. Also the zips are quite stiff, but that would be nitpicking. All in all a great pair of boots for the money!
Anonymous - Wirral

- October 13, 2011
Really Comfy Boots
So far these boots are great. Have kept my feet both warm and dry. Great boot for the money. Word of caution though, be careful ordering one size bigger just in case. They come up pretty big! Still at least I've now got room for extra socks when it gets cold.
Martin C - London

- September 10, 2011
Great product, would recommend to others
Very comfortable, good quality, would recommend to anyone. Value for money.
Anonymous - Heckmondwike

- June 7, 2011
Great boots
Lovely boots, fit just right. go for the next size up when ordering, not sure how waterproof they are as not been out in the rain
Anonymous - Stourbridge

- March 16, 2011
Great product
These are my first pair of motorcycle boots, and decided to go half a size up, which I'm glad I did as they fit perfect with thicker socks. I did find the zip tight to pull up, but once on I found them very comfortable. I did some walking around town for about 4-5 hours to break them in. No rubbing or blisters. Excellent value for the price.
Anonymous - Braintree

- March 5, 2011
Great looking boots
Great value for money.. products quality very good..
Anonymous - Athens

- April 2, 2010
Good quality boots, would tell my mates.
At first found the boots a little tight but after use became comfortable. I think that this indicates their durability.
William Davies - Swansea

- March 8, 2010
Good quality boot
However toe protectors needed a bit of reshaping to get to fit the toe of the boots properly.
Christopher Steatham - Coventry
PLEASE NOTE: The views and opinions expressed in the above reviews are solely those of the author and are not necessarily representative of the views of SPORTSBIKESHOP LTD.