+44 (0)1205 360099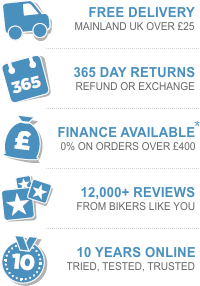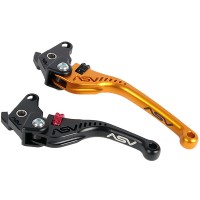 ASV Brake Levers - BRC520
Customer Product Reviews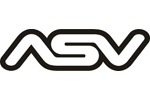 Our price £87.88 £92.50
View Product Details

- July 29, 2013
Great looking levers, top quality
Love these levers! Easy to fit to my Hornet 600 & they really look smart. Top quality product arrived quickly and Sportsbikeshop customer service 100%. I went for the standard length and found no hassle making the changeover. A couple of short test rides locally and I had the adjustment just right. I'm also very happy they will fit a range of other bikes if/when I change the Hornet. My only gripe: no stickers/decals in the box!!
Karen Kiely - Ireland

- May 23, 2013
Great levers
Lovely lever, went on without a problem and feels great to use. Definitely shorter than expected but 2-3 fingers get a nice, comfortable fit. The adjustability is fantastic too.
Innicas - Belfast

- November 28, 2012
Superb levers!
They are really well manufactured and feel like they'll last forever. Would definitely recommend them to anyone looking for an upgrade!
Gary Williams - Newbury

- September 24, 2012
Keeps you moving
First class service and first class products producing a prompt service from Sportsbikeshop.
David Cooper - London

- August 2, 2012
Great product, would recommend to others
Very good product. No problems with instalation. Perfect adjustability for my small hands.
Emil Serafin - Ljubljana

- June 4, 2012
Excellent product, really worthwhile
Came already set up for my bike, no hassles very easy to fit. Finish on the lever is perfect and performs exactly as it should. Quick delivery, worth the money.
Robert - Cambridgeshire

- October 15, 2011
Beautifully Engineered.
A doddle to fit, adjusts to fit any size hands. I've now got much better clutch control, and Sportsbikeshop delivered yet again. Any potential buyers I highly recommend them.
Keith Taylor - Wakefield

- July 12, 2011
High quality, easy installation
Pricey but much superior to standard levers. Adjustable range to suit personal preference, looks great on bike, comfortable to use.
Joseph Mcfarland - Jesús Pobre ,03749 Denia

- June 22, 2011
Great product
It is perfect.
Anonymous - Argos
PLEASE NOTE: The views and opinions expressed in the above reviews are solely those of the author and are not necessarily representative of the views of SPORTSBIKESHOP LTD.