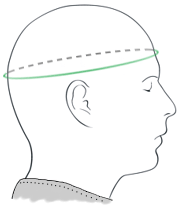 Helmet Size Guide
Measuring your head for the perfect fit
Getting the right fit for your helmet is essential for it to provide the best possible comfort and protection. To ensure that you are buying the correct size for your head, please take a moment to read through the following guide.
How to measure
Measure around your head ensuring the tape passes across the centre of the forehead, above the ears and over the natural bump at the back of the head.
Hints & Tips
If your head measurement is between sizes, it's always best to go for the smaller size as the inner lining of the helmet will give slighlty with use.
If you haven't got a suitable tape measure try using a piece of string and then measure the string using a ruler.
Allow some tolerance for very long or thick hair.