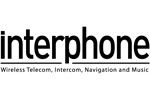 Interphone F4XT Bluetooth Intercom
Description
Interphone F4XT Bluetooth Intercom
Ergonomic case
Bluetooth wireless stereo technology
Hands-free, voice activated call answering, dialing and rejection
Ability to link two phones at once
Totally waterproof system
Standby time 700 hours
Recharging system via 2.5mm jack
Recharge time of 3 hours
DSP technology cancels out background noise giving high quality sound up to 112mph
Automatic volume level adjustment, according to speed
Dimensions (mm): 90x46x20
Weight: 83gr including microphone
Boom and full face mics included
Average talk time (hands-free/intercom use) 12 hours
F-Series will work with motorcycle Bluetooth enabled GPS devices (A2DP)
Automatic recovery of song from exact point of where it was interrupted
Next/previous track buttons to control music
Update via USB
Quick and easy control unit removal
If you're looking for the ultimate Bluetooth motorcycle communication and entertainment system, you've found it. The Interphone F4XT is packed with so many amazing features, you'll wonder how you ever managed without it. Connect the F4XT to two phones at once via Bluetooth and make voice activated hands-free calls; link to another F4XT for rider-to-pillion or bike-to-bike communication up to 500 metres; sync with your sat-nav to receive step by step directions and add your mp3 player or iPod to listen to your favorite songs en-route. The F4XT features DSP technology to cancel out background noise, enabling high quality sound at speeds up to 112mph and to top it all off has automatic volume level adjustment, according to speed? magic! The F4XT is a waterproof, self-contained fully wireless unit, designed to fit quickly and easily to open, full face or flip-front bike helmets.
Free Items
Manufacturer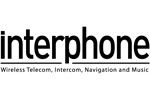 About
Interphone
In 2005, Cellular Line introduced its first Bluetooth Interphone. The device was received by the markets as a harbinger of great innovation in communication between motorcyclists, who were still tied down by antiquated wired transmission systems that offered neither the quality nor the safety that only Interphone could provide from the moment it arrived on the scene.
Over the years, Interphone has earned the complete trust of motorcyclists, thanks to the extreme serviceability and reliability of its devices, so it has become their perfect companion on the highway and in the city. Also, Interphone is now identified as a brand that develops and produces innovative devices for the market, which is partially due to its persistent presence as an exhibitor at the world's most important motorcycle trade fairs, where the attractiveness, competence and visuals of its innovative stands have consistently attracted the great interest of both professionals and visitors.

See all Interphone products…
Questions and Answers
Questions and Answers
No questions or answers have been posted for this product…