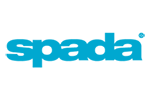 Spada Intrepid Mirage - White / Red / Black
Customer Reviews
for Spada Intrepid Mirage - White / Red / Black
November 29, 2016
Outstanding
I bought the Spada intrepid mirage in red to match my new trail bikes colour scheme. It arrived rapidly with no problems. I even obtained it slightly cheaper due to Sportsbikeshop's price match promise. The helmet is great quality for the price and has the feel of a premium more expensive product. It is comfortable and the sizing is spot on. The visor is Pinlock ready (something I will order soon), venting is good and the ratchet type chin strap is effective and comfortable. Overall I'm completely satisfied with the helmet and made a great choice. Sportsbikeshop, as always have been fantastic to deal with. If you need a fairly priced good quality adventure type helmet I wouldn't hesitate, this is the one.
Read more
November 8, 2016
Get helmet, comfortable and cheap
The helmet arrived at my house very quickly! I loved the product as it's very comfortable with the perfect fit. I love the patterns and colours as this suits my bike really well. I also found that go pro helmet mount stick really well on to the helmet.
Read more