SPORTSBIKESHOP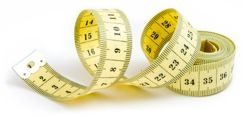 Motorcycle Boots Size Guide
Essential tips to the perfect fit
How do you measure up?
When it comes to sizing up your feet, in general, it is best to use your standard shoe or boot size when selecting motorcycle boots. If the boots are more sport orientated, you may need to go up one size and you'll also need to think about going up a size if your foot measurement is between sizes. You may even have one foot larger than the other, which is quite normal, and again, it's best to go up a size. As well as the size of your feet, consider the width, as Italian boots tend to be narrower than other makes.
Ladies feet are often smaller then mens, as well as being different in shape, especially around the calf. Many makes have a specific women's range which should feel much more comfortable and some offer higher heels or are built up internally to give a little more height if you need it.
Choosing the right style
If you like to wear your boots inside your trousers then have a look at the shin protection; race boots tend to be really wide at the top. If you're a little short, be wary of boots with lots of plastic armour or adventure style boots with metal toe guards as you could easily scratch your bike when throwing your leg over.
Think about what kind of bike you actually ride? A set of adventure off-road boots may offer masses of protection but you'll struggle to change gear on a sportsbike and touring boots may be waterproof and warm, but could be too sweaty if you're attending trackdays in the summer. We're really lucky these days as there is a style to suit you, whatever you ride, so be honest with yourself. A good motorcycle boot should be flexible to ride in and walk about, but be stiff enough to help prevent your foot from twisting in an accident. As always, it's a compromise.
Getting it right
Because of the thick leather or Lorica (man-made leather) used in most boots construction, they could feel a little stiff at first. Walk around the house to see if they feel nice and crouch down to feel what they will be like on the bike.
Take your time to make sure they're right, it's important that they fit well. If you do need to send them back, remember that we offer a 365 day returns policy.