SPORTSBIKESHOP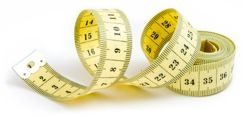 Motorcycle Gloves Size Guide
Essential tips to the perfect fit
How do you measure up?
Different manufacturers use different methods for sizing hands, but the most commonly used way, is to measure across one side of the widest part of the palm. A small number of manufacturers use a different method, measuring all the way around the hand. Once measured, just apply the measurements using our manufacturer specific size charts, that you'll find accompanying every pair of gloves.
Choosing the right style
Think about what you'll use them for. Sportsbike gloves will offer maximum protection for trackdays or fast riding, but that may make it restrictive or uncomfortable for long tours, or working the switchgear. Winter gloves are best worn under the cuff of your jacket to keep the elements out, so make sure they're long enough.
We all have different size hands and different length fingers, so there's always a little compromise somewhere. When you try them on consider whether it is warm or cold, as hands swell quite a lot in the heat, so a snug-fitting pair of gloves in the cold may be too tight in the summer. As you try them on, try them with your jacket to check the wrist fits over, or under your sleeve. They should be comfy around the hand and palm, but not too loose, or as you open the throttle your hand will just move inside the glove. Do the wrist restraint strap up comfortably and with the other hand try to pull off the glove. Make sure the fingers are not too small by gripping around the handlebars or something similar, as if they're a little tight you may not feel it until you've started riding. However, if the fingers are too long, you could catch them on the brake lever as you come off the throttle to brake.
Extra Protection
More and more gloves are coming with hard protection on the palm, the idea is to help prevent the hand from slowing down as it hits the ground, transmitting the impact to the elbow which hopefully has larger protection armour. The hard armour around the knuckles will help if you slap your hand down in a fall, but also helps fend off stones thrown up by the car in front! Just be a little careful not to lean on your tank though, as they could scratch your bike.
Getting it right
Take your time to make sure they're right, it's important that they fit well. If you do need to send them back, remember that we offer a 365 day returns policy.