Over 250,000 Products

£14m+ stock holding

Click & Collect

From a shop near you

365 Day Returns

No-Fuss Refunds

Next-day Delivery

Available 7 Days a Week

250+ Top Brands

UK's largest range

15+ Years Online

Tried, tested, trusted
Buse Gloves
An exceptional range of motorcycle gloves by Buse
Over the last 25 years, the name Buse has developed a reputation for producing hard wearing and dependable motorcycle fashion. Although relatively new to the UK, Buse are one of the most popular brands in Germany and continue to grow every year, producing innovative motorcycle clothing to suit most riding styles across all climates.

Explore related categories…
Verified Customer Reviews for Buse Gloves
Sizes on small side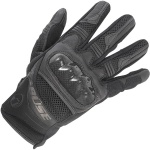 Buse Safe Ride Mixed Gloves - Black
03 June 2021 by Anonymous
Bought in 2xl, a size up from normal and they're tight to get on, fit about right but on the tight side when on, have a seam on one finger of left glove that digs in and is annoying.
Quality of gloves is very good, i bought these after a spill wearing buse gloves, they did very well, so overall happy, just a lil bit tight for me.
Pure comfort
Buse Ladies Ascari Gloves - Black
20 May 2017 by Dorothy C
So comfortable and a super fit. Lovely soft leather so flexible, yet great protection.