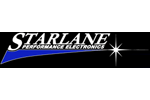 Starlane Davinci-R - Aprilia RSV4 R / Factory APRC
Description
Starlane Davinci-R - Aprilia RSV4 R / Factory APRC
10Hz integral GPS receiver and aerial
Finish line and intermediates management
Automatic finish line detection (SAFD)
Ideal time read out
Resettable hour-counter for servicing
Finish line / coordinates storage
Data download via USB or Bluetooth
Ultra-bright LED bar lap counter
Settable shift light
Shock-proof body
4 configurable alarms
Membrane keyboard
Multi-page menu
Automatic satellite chronometer
Double-function best lap LED
999 lap memory
Up to 99 trial sessions
LCD display includes: RPM, speed, temp, total distance, session distance, engaged gear, previous lap time, best lap time, etc.


The new Davinci Digital Dashboard stands out from competitors mainly because of its full-screen liquid crystal display systems (LCD), and as with all Starlane products because of the exceptional readability of the tachometer with new Ultra-bright LED's.

This solution makes it perfectly visible even in case of direct sunlight or from an obtuse angles. Moreover, the LED solution totally cancels the delay in signalling the engine speed, which is typical of liquid crystal displays (LCD). The aerial and the GPS receiver; integral in the instrument and without any external accessory enable the user to activate the laptimers functions with times and intermediates from GPS, i.e. without using any track-side apparatus, and to acquire trajectories for comparison on the PC. The solution with USB cable and the high-speed Bluetooth wireless mode are both made available for computer connection.
Product Fitment
Manufacturer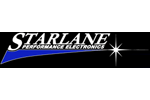 About
Starlane
Starlane S.R.L. were established in 1998 with the sole aim of developing innovative electronic products for motorcycle racing; their initial development projects being electronic systems for 2 stroke Grand Prix bikes. It was this testing ground that fuelled their creation of an engine management & data acquisition System, completely integrated inside the dashboard of the motorcycle. Such a solution had never been implemented before, even on the very best factory bikes, and it was soon after their implementation in 2000 that the racing results arrived. This in turn led to the very largest of bike factories opting for a very similar method, inevitably helping to forge Starlane's reputation, as a leader in performance electronics.


See all Starlane products…
Questions and Answers
Questions and Answers
No questions or answers have been posted for this product…

You won't get it cheaper.
Our Price Match Promise.