Verified Customer Reviews for Dainese No Wind Layer D1
Perfect mid layer
26 April 2022 by Laurence C
Top quality product, sizing perfect and can be worn under motorcycle jacket but also as a casual layer. Looks great and usual Dainese quality
Great piece of kit
08 August 2021 by Paul
I'm a 56 Euro size so bought a 2XL which fits just fine. Used the D1 wind layer on a 3 day trip round Wales underneath a perforated leather jack and it works a treat! Very happy
Excellent quality mid layer
30 October 2020 by Graham J
Usual Dainese top quality item. Good close fit & warm when temperature drops. Comfortable fit at the neck with a closed zip end which is a nice touch.
Something you can wear off the bike as well.

The D1! cracking!
20 October 2019 by Nick
So for anyone debating on this product...

I'm a motorcycle instructor so out in all weathers. I ride a naked bike at work and a sports bike in my time off, So slightly different riding positions and its comfortable in both.

I also wear a perforated sports bike jacket so its tight fitting especially on the arms and the jacket lets a lot of air through. The D1 makes the arms tighter but will just about fit underneath. The arms are windstopper and thermal lined too... but the benefit of completely cutting out the wind on a perforated jacket is a must when you are looking at riding in anything less than 10 degrees. It does an amazing job at cutting out all wind and you don't feel a breath coming in at high speeds.

Above 13 degrees you will need to tale it off when off the bike as its too hot due to the thermal liner.

If you want something for 15 degrees plus (summer evenings etc then the D mental fleece is better as only has windstopper material on the chest and is less bulky on the arms, I've owned both...

The D1 is abut to save my winter 2019! absolutely perfect for cold weather, makes a massive difference!
Top quality
16 May 2019 by Anonymous
Usual Dainese quality.Got this to act as an off the bike casual layer when touring as well ass the on bike mid layer.Perfect for the job and reduces packing.
Sizing is snug but does a great job.
Dainese no wind layer - bad experience
20 October 2018 by Richard R
Ordered the Dainese wind layer for two day trip to Scotland. After the first day I took the jacket off and all of the lining fell out covering the floor. You could actually see the lack of internal lining on one patch from the outside.
I returned the jacket to Sportsbikeshop who said they are talking to Dainese about it and it could take 4 weeks. I currently don't have a jacket.
Not the service I have come to expect from Sportsbikeshop ....very poor and not a good experience.
Best windproof layer out there
06 October 2017 by Gareth
Quite simply roasting and extremely effective at stopping the wind. I wear it under a Alpinestars windproof textile jacket and this is the only thing that works.

Used to ride on a super naked and it makes a big difference. Size a bit snug so recommend ordering a size up if you want to wear a t-shirt underneath.
Very good layer
26 September 2016 by Anonymous
I have not used this yet in the intended weather conditions, but I did play around with it at home and it is extremely warm and not wind goes through it.

The fit is slim do depending on your preference you might need to go a size up.

The internal material is a fleece which is very nice especially around the neck.

Very pleased with this and I have already recommended it to friends and family!
Top notch product & superb customer service
27 June 2016 by Haraen
I bought this for my brother in law. The fit is perfect and very comfortable is what he said. He rides a KTM 990, so it won't be riding up on your back

Sportsbikeshop service is excellent.
Literally lets no wind in
01 April 2016 by Greg H
Great jacket. Literally lets no wind in. Only negative is it should be a chamfered fit for sport bike riding, on a sit up beg you'll be fine.

Usual superb service from sportsbikeshop!!!
Description
Dainese No Wind Layer D1 - Black
Constructed of Interon water-resistant, elasticated fabric
Night-time visible reflective detailing
Completely windproof
Two front pockets
Product Specification
Manufacturer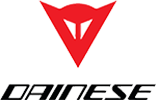 About
Dainese
In 1972 Mr Lino Dainese made some leather motocross trousers, starting a biking brand that has since brought style and innovation to motorcyclists the world over. Working with some of the most evocative names in motorcycle racing, Dainese led the way in the development of leather stretch panels, knee sliders and race suits- cut to suit the rider in a real world riding position. The 80's brought back protectors (with Barry Sheene), composite armour, and more aerodynamic suits; whilst the 90's brought gloves with knuckle armour and the first biking airbag system. Dainese remains at the forefront of motorcycle clothing technology and continues to be the brand of choice for the biggest names in bike racing, all the way up to the greatest rider of all time, Valentino Rossi. Today, Dainese is one of the most recognisable, coolest, and most aspirational motorcycle brands on the planet. With a well deserved reputation for safety that has crossed over into nearly every extreme sport there is, the name Dainese is synonymous with style, protection, comfort and durability.

You won't get it cheaper.
Our Price Match Promise.