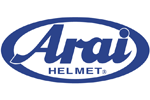 Arai RX-7V - HRC Honda
Limited edition helmet with new generation visor system and adjustable skull cap
View full details
Customer Reviews
for Arai RX-7V - HRC Honda
November 14, 2017
Very pleased customer
Having always had entry level helmets of a different make I decided to take a bit of a gamble and it paid off! Straight out the box this lid looks stunning, the paintwork has a nice fleck to it. There's plenty of vents and a little adjustable spoiler on the back too. As for fitting, having an XS it was still a little loose but these have interchangeable cheek pads and crowns so you can get a tailored fit. I've worn this twice now on long rides and it's very comfortable to wear, really happy with it and well worth the money. The only thing I would say is that the visor locking mechanism isn't designed for chunky winter gloves!
Read more
October 5, 2016
The best of the best
Arai is always to me the best looking, best feeling and best quality helmet available. It's been stepped up a gear with this new model. This paint job is stunning.
Read more
Description
Arai RX-7V - HRC Honda
Genuine UK Arai helmet
Five year Arai warranty
Strongest PB-SNC2 R75 shell construction
VAS (Variable Axis System) Pinlock ready Max Vision visor
Max Vision Pinlock insert included
Smaller side pods, more shell surface area
Increased field of vision, taller and wider visor
Improved high speed aerodynamics
Adjustable skull cap, forward, backwards and removable padding
Fully removable and washable Eco Pure interior and cheek pads
5mm peel away layer for added room if needed
Removable neck roll
Double-D retention system
Speaker pocket in cheek pads
Quiet and comfortable with new vent ducts and chin curtain
Larger space in the mouth area for a more open feeling
Emergency release tab on cheek pads
Chin cover blocks turbulent air and increases negative pressure
Longer and straighter diffusers for improved aerodynamics
Silicone lubricant and Arai branded soft helmet bag included
The RX-7V represents the summit of Arai's knowledge, experience and know-how in helmet technology. With a completely new PB-SNC2 outer shell, the revolutionary VAS ("Variable Axis System") visor system and a significant increased smoother area around the temples, the RX-7V offers the new benchmark in the premium helmet segment. From the new Eco Pure liner with an even slimmer frame to the new ducts, improved diffuser and the integrated Air Channels, every part shows the attention to detail that is so typical for Arai. Arai has continually improved the "glancing off" performance by learning from real scenarios. Thanks to the new stronger and smoother shell and VAS, the RX-7V is closer to the ideal helmet shape than ever.
Product Videos

New Visor System
Features
Product Specification
Variants
Visors
Manufacturer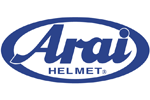 About
Arai
If there's one brand you can rely on in the fast moving world of motorcycling, it's Arai. Since 1937, this family owned company has committed itself to one goal, making the very best helmet possible.

Arai have consistently provided the ultimate in motorcycle helmet safety, comfort and quality thanks to over 20 years of effort in MotoGP, World Superbike and every other conceivable form of motorcycle racing, at all levels. Every single piece of knowledge learned on the racetrack is put to good use in the development of product, helping to protect every one of Arai's customers on the road, the world over. There truly is no such thing as a cheap Arai helmet.

So while many things change, one truth will always remain. If you want the ultimate motorcycle crash helmet there is only one choice, Arai Helmets.
See all Arai products…
Questions and Answers
Questions and Answers
No questions or answers have been posted for this product…