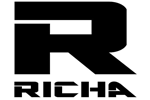 Richa Ladies Freedom Leather & Textile Mix Jeans - Black
Womens leather and textile mixed jeans with height adjustable CE certified knee protection
View full details
Customer Reviews
for Richa Ladies Freedom Leather & Textile Mix Jeans - Black
Description
Richa Ladies Freedom Leather & Textile Mix Jeans - Black
Mixed leather and textile construction
Brazilian cowhide and Keptotec for optimal fit
Lower leg is designed to fit over boots
Stretch zones for enhanced flexibility
CE certified knee protection included
Knee protection is height adjustable
Short jeans to Richa jacket connection zip
Size Guide
8
10
12
14
16
18
20
22
EURO SIZE
36
38
40
42
44
46
48
50
LETTER SIZE
XS
S
M
L
XL
2XL
3XL
4XL
SHORT LEG
27
27
28
29
30
31
31
32
REGULAR LEG
29
29
30
31
32
33
33
34
Brazilian cowhide leather coupled with Keprotec for superb fit. Boot cut, CE armour in knees and jacket link zip. These trousers have rewritten the rules for ladies motorcycle garments.
Product Specification
Manufacturer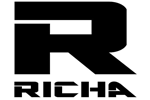 About
Richa
As a range, Richa motorcycle clothing has it covered with an extensive collection of both textile and leather garments to suit all types of rider. The brand consistently delivers both quality and style, without a hefty price tag attached. With over 10 years experience of producing product without compromise, Richa will undoubtedly continue to grow, particularly as it's range is constantly evolving to take the latest biking trends into account. As one of UK's most popular brands, you'll always find us featuring the entire Richa motorcycle clothing range particularly as it achieves one of our highest levels of customer satisfaction, just check out the reviews!
See all Richa products…
Questions and Answers
Questions and Answers
Is there hip protection available to purchase for this product?

February 25, 2019

Sorry unfortunately the jeans do not have any pockets for armour I'm afraid.

Richa Freedom leather/textile jeans black - I see the zip to attach a jacket does not go around to the front - only the back - will this work with a Dainese Jacket or is there a particular jacket to match? Thanks.

May 21, 2018

We would only recommend zipping the jeans to a jacket of the same brand - any ladies Richa jacket with a short zip will be suitable.

size 40, what is the round of the waist in cm?

September 26, 2017

The waist measures 77cm.

Hi I'm a size uk 12 in jeans I find the size 12 in these trousers too small (more like size 10) should I opt for a 14? Thanks

March 16, 2017

We recommend that you choose the next size up if the size 12 does not fit.

Do these come in a longer leg length?

June 20, 2013

The regular size in The Richa Ladies Freedom Trousers has an inside leg measurement of approximately 31-32".

Are these trousers waterproof?

December 19, 2012

Due to the leather content these Jeans would not be classed as waterproof.

Do you need to buy the size you are or one size up because of style and padding etc.

May 9, 2012

We do find that the majority of our lady customers opt for their standard jeans size, particularly in the Freedom trousers. While this obviously cannot be the golden rule for everyone, it does give us a good guide.

What is the waist measurement of the UK size 12?

May 8, 2012

The waist size in the size 12 Ladies Freedom Trousers is approximately 28 .

Size 18: could you please measure the waistline? And do you deliver outside UK,in this case to Finland?

May 4, 2012

The waist of this trouser measures 32inches. The countries we currently ship to can be found by following the below link: http://www.sportsbikeshop.co.uk/motorcycle_parts/faq

Are these trousers designed to be worn only over boots or are they being worn as race style trousers inside motorcycle boots?

April 3, 2012

As a boot cut, the Ladies Freedom Trousers are designed to be worn outside of boots.

Does this product have soft hip padding or pockets?

March 28, 2012

The Richa ladies Freedom trousers do not have padding as such. They are supplied with a mesh comfort liner together with CE approved knee armour. Two hip pockets are located on the front of the jeans in typical 'jean style' location.

The ladies Richa leather and fabric trousers, what leg length is the short?

March 27, 2012

The Richa ladies trousers short leg size is approximately 29".