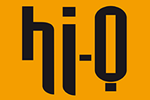 Hi-Q Copper Washers Assortment - 150 Pieces
Customer Reviews for Hi-Q Copper Washers Assortment - 150 Pieces
June 2, 2020
Quality Washers
Quality washers with all the standard sizes to fit sump plugs and brake calliper hoses.
Read more
Description
Hi-Q Copper Washers Assortment - 150 Pieces
Ideal for replacing sump plug washers
15 different sizes (10 of each size)
Supplied with an organiser box
Manufacturer

You won't get it cheaper.
Our Price Match Promise.