Verified Customer Reviews for Bell SRT
GVFM
14 June 2022 by Mauger G
So far I am really pleased with the helmet, the fit is comfortable, I wear spectacles which are easily accommodated, it is lightweight, a fraction of the price of a Junior MSUK approved helmet of a similar weight for kart racing, so far I do not have any negatives.
It is also pretty distinctive.
Style: Proverb Orange / Yellow / Black
Bell SRT
24 May 2022 by Graham S
This is my second Bell helmet in as many years, I needed a helmet that would accommodate glasses without the usual tight press against my temple...the Bell SRT helmet delivers this and then some, perfectly positioned inner grooves in the padding so the glasses slide in effortlessly.
The finish on the helmet is superb and the visor front shutting notch is excellent and robust, wind reduction noise is good however I wear ear plugs so this does help. The design is typical Bell understated and classic with a rich gloss and vents that are gold quality not flimsy, overall extremely happy with a fibreglass helmet for only £110
Style: Razor Black / Grey / Red
Bell srt
30 April 2022 by Gerald M
This is the 2nd bell helmet I have brought use one for work one for best the one I replaced was a x-lite x702 gt carbon, the bell is a lot better price, the vison and comfort is way better good all round the first one I've had for a year
Style: Razor Black / Grey / Red
Fantastic helmet for the price!
06 April 2022 by Anthony N
Never owned a Bell helmet before. To be honest I was drawn to the colour scheme to match a new bike and the price at £118 made it very easy to give it a whirl.
To say that I'm impressed is an understatement!!
Very light, excellent vision, excellent ventilation and I cannot believe how quiet it is.
Highly recommended.
Style: Devil May Care
Bell SRT
06 March 2022 by Anonymous
Nice helmet
Not to sure how long the clasp will last as it's a bit of hard plastic with a ratchet clip
Just looked at how much a replacement visor is gulp!
Style: Isle of Man Black / Red
Great lid.
28 February 2022 by Graeme S
Great lid, light, nice fit, great vision, really like the graphics. My only gripes are, no drop-down visor and the cost of visors for it, pinlock ready one is almost same price I paid for the helmet!! Only reason I gave 4 stars.
Style: Isle of Man Black / Red
Bell STR IOM helmet
28 February 2022 by Gavin A
Very nice fit, I normally wear Arai, it's all about the fit,
but took a chance on this one, because I like the look of this one,
And the price, well fit is great, a light helmet which nice quiet not to much wind noise.
A quality helmet at a budget price.
Style: Isle of Man Black / Red
Bell SRT
26 February 2022 by Craig
Bought this helmet as a new winter helmet. Good fit, comfortable and good vision. At the sale price it was extremely good value for a quality helmet. Cheapest available online too.
Style: Devil May Care
Lighttweight and no need for pinlock
06 January 2022 by Anonymous
Lighter than my old AGV k3 and excellent visibility. The lower front vents do a brilliant job of keeping the visor clear. Highly recommend.
Style: Vestige Gloss White / Black
Light fantastic
04 January 2022 by Colin P
The first thing you notice is that being fibreglass, the helmet is extremely light. I ride a naked retro, and this Bell really fits the style, but the helmet is not very aerodynamic, so there is a bit of wind noise and movement especially in side winds. The fit is very comfortable, and the size is spot-on - although it's advertised as glasses-friendly, it's not that great... my Nolan N87 is way better in this regard. Real shame it doesn't come with an internal sun-visor... but what amazing value!
Style: Vestige Gloss White / Black
Looks great
23 December 2021 by Geoff S
Looks old great
It's light and comfortable and easy to wear.
The visor won't stay a little open to let air in if you go over 60. It just blows shut. Otherwise a great buy.
Style: Vestige Gloss White / Black
First ring of the Bell
19 November 2021 by Alistair H
My first Bell helmet ever and why did it take me so long to find comfort improved width of vision and I am now able to wear glasses when riding.
I love the design its quite different from the norm and that suits me fine.
I find the lid much quieter than my precious helmet.
Style: Vestige Gloss White / Black
Nice quality helmet
09 October 2021 by Raztom
Helmet is quiet, much quieter than my flip up helmet. Visor is particularly good, no need for pinlock. Paint nice with durable finish. I would buy another Bell helmet after trying this one.
Style: Predator Fluo Green / Black
Great quality product
20 September 2021 by Kevin I
Brought on sale, never owned a bell helmet so gave it a try, I can say I will be using bell all the time now the quality and fitment is amazing, highly recommended
Style: Predator Fluo Green / Black
Great value
15 August 2021 by William
A well made, comfortable, handsome and relatively quiet helmet. Ventilation is very good and it has a wide visor port.

The visor itself, however, cannot take a pinlock so we'll see how well it copes with wet weather. Not well, I predict.

In terms of fit, it's very slightly on the generous side so you may need to take a size smaller than your usual. I'm a 2XL and the fit is acceptably loose, but only just.

At £99 it's very good value.


Style: Vestige Gloss White / Black
Superb helmet
23 July 2021 by Lee P
First Bell I've tried, it won't be the last. High quality inside and out. Comfortable, quiet, best ever chin strap, secure visor,great visibility and vents that work below 40 mph.
Style: Predator Copper / Black
Good quality helmet
11 July 2021 by Iv
I got this helmet for every day commuting and it's up to the job. It's comfortable with nice padding and large visor. It has three large vent opening and cooling is sufficient. There are recess pockets for communication system as well. I find the helmet quieter than my previous and this is a good point too.
On the negative side it comes without pinlock but for the price I have paid £ 99.99 I shouldn't complain probably.
Also I don't like the ratchet strap. I just don't trust these things and prefer D ring instead but this is a personal preference.
Overall this is a very good helmet for the price.
Sportsbikeshop service excellent as usual.

Style: Predator White / Black
Quality helmet at an affordable price.
09 July 2021 by Jeremy S
This is a well built helmet with the Bell backing. Nice fit with easy buckle arrangement. The visor is heavy duty and gives great vision. I would always wear a helmet with ear plugs and they do need to be used with this helmet. Very pleased with the fit and look of the helmet. I would have no hesitation in recommending it.
Style: Predator Copper / Black
Description
Bell SRT - Solid Matt Black
Lightweight fibreglass shell construction
Panovision visor offers a greater field of view
Recessed speaker pockets for comm systems
Eyewear compatible side grooves
Product Specification
Variants
Manufacturer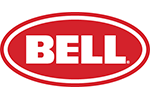 About
Bell
Bell helmets exist to inspire and enable the next generation of boundary breakers. It is built from auto racing, motorcycle and bicycle culture. Bell don't just make helmets; they make possibilities. Born in a garage, fuelled by grease and will and guided by pure intent to encourage the world to live, ride, drive and thrive. Hand-in-hand with the world's best drivers and riders, Bell helmets continue to enable the world's best to be their best... as it always has. Bell-Established 1954. Proven ever since.

You won't get it cheaper.
Our Price Match Promise.