Verified Customer Reviews for RST Pro Series Paragon 5 CE Textile Jeans
Really nice textile pants
29 November 2019 by Daniel S
Really nice textile pants, good quality material and reflective bands on it highly visible, warm in cold mornings and bone dry on rainy days, highly recommend I am 100% satisfied with my purchase, you will be as well!
Does the job
15 November 2019 by Matt H
I'm a 32inch waist so went for medium, which is 32inch on the label, and they fit just right. They are comfortable, keep me warm in these winter months and also pretty much dry. what I have found is that in heavy rain for prolonged periods the water running off the tank into the groin area can seep through, but it was a heavy downpour! Well worth the money.
Fantastic value for money
03 November 2019 by Selwyn W
Ignored the majority of reviews which said to go a size bigger and went for my usual 30" waist & 30" leg and they fit fine. They have now been used on all kinds of weather and have kept me warm and more importantly, dry. I would have given a mark of 5 (excellent) except for the fact that they are very baggy around the knee and the knee pads don't seem to sit correctly. Apart from that they are well worth the money.
Great
29 October 2019 by Craig A
Bought these along with the paragon v jacket and honestly beyond impressed with both of them ... The trousers fit amazing and knee pads are great and not in the way the thermal layer is great for keeping warm and as long as you zip them up even the crotch is waterproof
Style: Black / Black
Great Value and Quality
16 October 2019 by Gary C
This is my second RST Paragon jacket and jean set. The first was RST paragon 3. I have not had time to ride in them yet. But I'm sure they will be as good, as all RST products.
Style: Black / Black
Perfect riding garment
16 October 2019 by Mariano M
This pair of RST waterproof riding textile jeans are brilliant in every way. For a fraction of the money you'd depart with for one of the so-called premium brands you get all the performance. The jeans are well built, sturdy and I can confirm their waterproofing capacity is top notch after getting caught in a monsoon-like downpour. The protection offered is superb and the fitting was perfect. Highly recommended piece of kit.
Style: Black / Black
Disappointed.
30 September 2019 by Phillip H
(I'm always disappointed, when I get a wet crotch!)

This has been my first opportunity to test these in the real world conditions for which they are intended.

They were bought to replace a pair of RST Alpha 4 Textile jeans. The Alpha 4's don't have removeable linings, so can be too warm.

Unlike the Alpha 4's these let water in ... and this was after only an hour's, fairly low speed riding. Mainly around the crotch, but also on the left thigh.

(Another recent review mentions the same fault - though the reviewer is more forgiving than me.)

Something else of note - these are much harder to zip to my RST Tourmaster 2 jacket, than the Alpha 4's were. Maybe they've changed zip supplier?

The product does have some good points - but if they don't keep the rain out, they count for nothing in my book. :-(


Style: Black / Black
Good value textile trousers
27 September 2019 by Michael K
I am 36 waist and xl is a good fit.
have not worn them in extreme conditions but comfort and quality is good. Would recommend
Style: Black / Black
Great!!
23 September 2019 by Murdo M
Very comfortable well made trouser with easily accessible front pockets, easy to get on and off too, braces are a great feature, I have a 31" leg so the regular length is a perfect fit, good protection and nice to wear on the bike, only positive things to say about them, Sports Bike 5 star service too.
Style: Black / Black
Well made textile jeans
18 September 2019 by Andrew L
I can only provide my first impressions of this product as insufficeint opportunity to determine long term performance. The jeans are well made and appear to offer good protection at the knees. Sizing, they are thankfully generous around the waste like other rst jeans I have owned. I am a fan of rst products and spb generally
Style: Black / Black
Uncomfortable
10 September 2019 by Cathal P
There is no way of removing the absolutely massive knee pads. Bloody painful after 2 hrs riding. The jeans fit perfectly other than that.
Amazing
10 September 2019 by Keaton M
Great to have something that actually keeps you warm. The only problem I had was the sizes are smaller than they say I'm a 34 so a (L) but they no where near fit so I got a (XL) and they fit amazing but it you go to the shop they are warm welcome and friendly I went to the shop in Leeds to change and they were happy to help. Over all these Jean's are the best I have bought yet.
Style: Black / Black
Very happy customer
27 August 2019 by Ian
What an excellent service, superb product with accurate description and next day delivery, thank you S. B. S.
Style: Black / Black
Great value RST Paragon
25 August 2019 by Mark P
I've tried quite a few different bottoms but these are amazing for the money. Comfortable and fit perfectly. So pleased.

They come with a removable thermal lining and shoulder straps. A couple of vents for warm weather riding. The knee protectors sit right. They don't fall to the shin!!

Would thoroughly recommend them to new and old riders.

The price match promise from sportsbikeshop was amazing aswell customer service was great too thanks guys
Style: Black / Black
Good value
20 August 2019 by Adrian B
I have had these for a little over a year now, generally they are good, they leak a little in heavy rain (as with most trousers at the crotch). I recently had an issue with a knee pad which dropped inside - strangely these are not accessible without removing stitching. They are still under warranty and Sportsbike shop arranged return quickly - they were repaired and I had them back within a couple of weeks. Best thing as ever is the Sportsbikeshop customer service.
Style: Black / Black
High quality touring trousers
01 July 2019 by Brad S
As expected, the Paragon 5 trousers are excellent. They are well made with quality materials. The braces they come with work well. The fit is true to size. Even with the thermal liner there is enough flexibility in the knees to ride my cafe racer as well as my touring bike. I also fitted the RST hip protectors.
Style: Black / Black
Great
30 June 2019 by Mark H
Great . Was coming back from Brighton to Milton Keynes. It was raining all the way back. Was dry. Great product. I got that boots as well. They are great too.
Style: Black / Black
Excellent value for money
22 June 2019 by Gavin H
I bought the RST Pro Series Paragon 5 Jeans as an all-year round replacement for my 4-year old RST Pro Series Ventilator 4 Jeans. They immediately felt comfortable, warm, well-protected and quality. The added bonus was being able to buy the jeans combined with the jacket using 0% finance from Sportsbikeshop.co.uk!
Style: Black / Black
Description
RST Pro Series Paragon 5 CE Textile Jeans - Silver / Flo Red
CE certified for road use
Constructed of Ballistic and HT tex material
Sinaqua waterproof breathable lining
Fixed breathable mesh lining
Removable thermal quilted liner
Pocket for optional RST contour Plus hip protectors
RST Contour plus CE knee armour
Full jacket to jean connection zip
Night-time visible reflective detailing
Stretch comfort panels
Detachable braces
Adjustable waistband
Two exteral zip pockets
Re-inforced seat area
Air intake vents on thighs
Double and triple stitched seams
Heavy duty bonded nylon thread
Max zips used throughout
Size Guide
S
M
L
XL
2XL
3XL
4XL
5XL
UK WAIST
30
32
34
36
38
40
42
44
EURO SIZE
50
52
54
56
58
60
62
64
SHORT LEG (in)
30
30
30
30
30
30
30
30
REGULAR LEG (in)
32
32
32
32
32
32
32
32
Product Specification
Manufacturer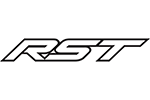 About
RST
It's no wonder that the RST motorcycle clothing range is now one of the most popular ranges of bike kit in the UK. Their continued investment in racing, with a particular focus on BSB, has meant a constant development of product, which has translated directly to their road range. With the help of some of the biggest names in the BSB paddock, such as Tommy Hill, John Kirkham and Stuart Easton, RST have pushed the boundaries of what can be delivered through a brand that remains amazingly good value for money.
It also helps that the Derbyshire based design team are passionate about what they do; rigorously testing all RST clothing themselves. The team insist on riding all year round, despite the British weather, in order to put the RST textile range through its paces, and the fact that the team are keen track day enthusiasts, provides helpful real world testing of the RST leather range too. Their continued passion for design and innovation is highly apparent in this year's range and when you add to the mix the constant stream of positive feedback from our customers, it's easy to see why we have always covered the entire range of RST motorcycle clothing, and will continue to do so.
Questions and Answers
Questions and Answers
Hi can I order these in a long leg??xl

March 11, 2019

Unfortunately the Paragon 5 jeans are not available in a long leg option, apologies.

You won't get it cheaper.
Our Price Match Promise.