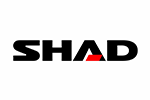 Shad E16P Pin System Tank Bag - 15 Litre
Expandable semi rigid tank bag with dedicated toll pass holder and waterproof rain cover
View full details
Verified Customer Reviews for Shad E16P Pin System Tank Bag
Great size for touring
26 June 2022 by Chris N
I had the smallest pin system bag on my BMW R1250RT first. It's great for a little ride out and back - but you only get a few essentials in there.
This 15 litre bag is as big as I'd like on my bike. It doesn't obstruct any instruments and is *just* the right size to avoid impeding full travel on the bars.
My only gripe would be that the carrying handle is on the wrong end. On the smaller bag, it's easy to attach the bag to the pins because the handle is near you - with this larger bag you can't easily tug the bag into the secured position on the pins.
Shad E16P Tank Bag system
28 April 2021 by Jeffrey M
You have to buy the 'cradle' or mounting system separately, however it appears to be good quality materials and fits together well.
Fitted to a BMW f700gs with a mounting cradle, which is bike specific.
Nice touch including a good quality rain cover.
Excellent
06 January 2021 by Frank S
Excellent case. Plenty of room and touch screen compatible cover for phone on top is great. It also has a slot on back to feed in USB. Under the top there is a handy mesh that can store lots and ideal if you have a power bank and has excellent secure bottom strap. Comes with carry straps and even when empty holds its shape well.
Description
Shad E16P Pin System Tank Bag - 15 Litre
| Width | Height | Depth | Max. Capacity |
| --- | --- | --- | --- |

Case Instructions
Durable 600D polyester construction
Expandable from 11 litres to 15 litres
Security strap included
Dedicated toll pass holder
To be used with Shad quick fitting tank bag PIN System
Adjustable to four different positions
Waterproof rain cover included
Reflective graphics for improved visibility
Semi rigid structure maintains shape when empty
Mobile phone holder for touchscreens up to 5.5 inches
Inner mesh pocket ideal for smaller items
Lockable and glove friendly zips
Shoulder strap and padded handle
Product Specification
Manufacturer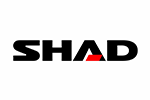 About
Shad
Why Shad Cases? Shad manufactures and distributes cases of various capacities and styles for large motorcycles to scooters and maxi scooters. Common characteristics of all Shad cases are the great quality of the materials used, increasing their guarantee and resistance, their high performance and their innovative aesthetics. The Shad brand belongs to NADSL, a company which has been active in the manufacture of seats and cases for the top motorcycle makers for many years. Since its beginnings, Shad has been committed to offering a high quality product.