Verified Customer Reviews for HJC i70
Best helmet I've had
01 November 2023 by Kenneth B
No wind noise great fit and looks good
Nothing to fault
14 October 2023 by William W
Had this helmet for around 3 weeks now and so far have been pleased with it, and found nothing to fault. Fits as expected
My go-to helmet
01 August 2023 by Reg
This is the second one of these helmets that I've purchased. I have one which easily accommodated a head set and I also wanted one without a headset as a spare for possible use for a pillion. The noise levels are good and I've had no issues with steaming up in the winter months. The wide visor also helps with visibility when doing shoulder checks.
Solid purchase
26 June 2023 by James C
Good fit, everything I was expecting I got. Good value for money
Style: Matt White
Does the job
20 June 2023 by Anonymous
Does the job for a good price
Good budget safety lid
15 June 2023 by Dan B
Comfortable, hi-vis, good padding. Only gripe is the internal visor controls are a bit stiff and tricky with gloves on, but otherwise a good lid.
Style: Fluo Yellow
Great price great service
11 June 2023 by Jonathan B
Ordered online but swapped sizes in store at MK. Great service and very helpful staff. HJC make great helmets and are better value for money than many.
Top Helmet!
27 May 2023 by Craig T
Top top helmet! Comfortable and good quality, this helmet is everything I was hoping for. The only minor issue is noise when the top vents are open which on a long journey would become annoying, but that's the only thing stopping it from getting 5 stars!
Surprisingly good product
14 March 2023 by Pawel L
I was a bit skeptical about buying online, without trying it on ( especially after returning faulty LS2 Storm) ... I had a few helmets of HJC in my hands, and on my head and... the sizing is not so obvious. Usually I wear size M 58cm, this time I decide to took 59 .... and it was a bullseye. It was a little "tight" on the sides of the head, but it has started to settle down and I don't feel it as much anymore... I have the opportunity to compare it to the Frank Thomas helmet. The Frank Thomas is a bit more comfortable, but the HJC i70 is a bit lighter, the pinlock really does the job and what is very important to me, the HJC i70 is noticeably quieter. Surprisingly, during the first rides it whistled slightly in the side wind, but it is a matter of fitting the new helmet. Summing up, I am happy with the purchase.
Great Helmet.
22 February 2023 by Harry F
The helmet is a safety device, I feel the safest colour is bright yellow, it stands out like a sore thumb.

The padding he super comfy, far more comfy than my previous AGV & Shark.

& It comes with a pinlock, everything I was after for £120.
Style: Fluo Yellow
Great value
20 September 2022 by Anonymous
Cheaper than the black version, good snug fit for my wife and the best part is the internal visor comes down and covers your whole face.
More of the same
31 August 2022 by Blair T
I bought this to replace my IS-17 Helmet that I has served me well over the last 5 years.

The i70 seems as well built, comfortable (perhaps even more so) than it's predecessor. A great value every day helmet.
Great value for money!
14 June 2022 by Renan C
Surprised with the quality of the helmet when it arrived, considering the price. Bought it on sale for my wife. Great fit, comfortable, it's got sunglasses and comes with pinlock. Wife couldn't be happier. And as always great service from SBS.
Whistle while you ride
24 May 2022 by Nicholas T
For the price it's good. Fits well and overall quality is good for the price point. However on first use there was a constant whilst coming from the helmet, which I discovered was produced by the fins at the top of the helmet. These needed bending slightly to reduce the noise and whilst still there it is now not intrusive.
Style: Eluma Red
Valued Helmet
19 January 2022 by Gnanamurthy S
It is simple and best for everyday use. The pinlock is very useful. The only problem is the shade glass keeps dropping down sometimes and there is no latch on the surface of the helmet to pull it back. I guess we can remove it if not using it. Other wise it is a good product.
Style: Fluo Yellow
Excellent value for money
15 November 2021 by David L
Excellent value for you money. Comfy and good fit.
As always an excellent service from Sportsbikeshop shop!
Style: Matt White
Bargain.
01 November 2021 by Anonymous
Got this to replace my HJC IS17. Went for the white colour as was £50 cheaper then other colours. Although the picture makes it look a bit plane and boring it is a very nice colour when you see it in front of you. The Matt white gives it a very modern and stylish look and then you got the visibility of it also. Prefer the sun visor mechanism of this to my old one, it is on the left side by chin rather than on top. It also has less wind noise than the IS17. Nice chin guard, and comes with pin lock and insert. I replaced size like for like (medium) and this one is really quite tight compared to last one for the first few times you use it. Now it's been used several times it's fine. Very happy.
Style: Matt White
Great quality helmet
11 October 2021 by Grant D
Great quality, and sizing from hjc,
Iv got another hjc helmet in black but thought I'd go for a matt white one and the colour is great on this helmet.
Great service by sportsbikeshop as always
Style: Matt White
HJC have high hopes for the i70, which arrived in 2019 to replace the uber-popular IS-17 in the competitive mid-price...
Description
HJC i70 - Gloss Black
Advanced polycarbonate outer shell construction
Comfortable fit with the use of CAD technology
Internal sun visor with easy operation lever and wide vision design
Wide visor aperture for greater peripheral vision
Anti-fog Pinlock lens visor insert included
Five air vents give optimal airflow throughout the helmet for quick hot air expulsion
Speaker pockets for installation of optional Bluetooth comms system
Removable and washable interior
Integrated glasses groove for comfort
The HJC i70 is constructed from a strong polycarbonate, ideal for touring and city riding. The i70's ventilation system is second to none with its five lower and upper vents, which ensures the heat and humidity is pushed out of the helmet. It also features a wide visor, drop down internal sun visor and Pinlock anti-fog lens. The i70 provides optimal vision and comfort for all rides and weather.
Product Specification
Variants
Related Items
Manufacturer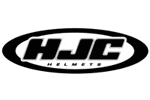 About
HJC
HJC have been designing and manufacturing high quality protective helmets since the early 1950s. In 1971 the factory turned all of its attention to motorcycle helmets and set itself the simple goal of providing high quality, comfortable, and reasonably priced helmets to motorcyclists throughout the world. This goal came a step nearer during the 1990s when HJC became America's top selling motorcycle helmet - a position it's held ever since. Today HJC helmets are available in every corner of the globe and are, quite simply, the world's biggest helmet brand, producing more motorcycle helmets than any other marque. The range now encompasses the full spectrum of helmet types, with the widest selection of graphics, materials, and price points.

You won't get it cheaper.
Our Price Match Promise.