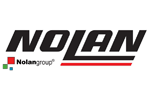 Nolan N87 Emblema N-Com - Corsa Red
N-Com ready full face polycarbonate helmet with a removable and washable interior
View full details
Customer Reviews
for Nolan N87 Emblema N-Com - Corsa Red
April 23, 2019
Justifies Best Buy Rating
I changed from a Shoei GT Air to the Nolan N87 and have been using it for a month. In summary I would say it offers the quality and all the main features of the Shoei at half the price or better. Fit, finish, comfort, ventilation, sun-visor, visor and pinlock are all excellent. The only safety feature it lacks is the pull-out chin pads. The split chin curtain is a great innovation: your neck tube will stay up covering your neck when you put the N87 on. The micro-ratchet chin strap may not suit everyone but I understand even Shoei have gone that way with the GT Air II. No regrets at all about choosing the N87.
Read more

You won't get it cheaper.
Our Price Match Promise.