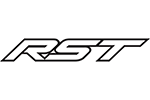 RST Axis CE Leather Gloves - Black / Red / White
Leather sport gloves with aramid fibre lining, pre-curved fingers and TPU knuckle armour
View full details
Verified Customer Reviews for RST Axis CE Leather Gloves
Good quality
11 July 2023 by David B
Great summer gloves that fit me perfectly. A good level of protection for a lightweight glove and they secure well with velcro below palm and on cuff.
Quality gloves
03 July 2023 by Mike S
Super comfy gloves that feel great!! Good price for the quality of glove. Double straps help them feel tight and secure. If you have sweaty hands you may have some ink on your hands after the first few rides but it does wash off haha.
Style: Black / Grey / White
Good value
01 July 2023 by Anonymous
Good sturdy gloves for a good price.

Only complaint is that during long summer rides, sweaty hands can make the dye leech out.
Good gloves
07 June 2023 by Richard L
Nice fit. Size guide is accurate.
Style: Black / Grey / White
Good quality gloves
26 April 2023 by Amanda D
Have used similar gloves last 2 years great no problems. Comfortable summer gloves look great
Comfortable and affordable
25 April 2023 by James W
Looking for a pair of longer gloves and after reading reviews I went with these and glad I did.
A comfortable and affordable glove, havent done many miles yet but quality looks and feels great.

Style: Black / Grey / White
Perfect quality
12 March 2023 by Catriona W
Comfortable and warm
17 February 2023 by Carl B
All my gear is now RST as I think it's good value for money! These gloves aren't too stiff and look like they are made well!
Perfect
12 February 2023 by Raymond P
Good size, great value for money
Style: Black / Blue / White
Great level of protection, I tested that
12 February 2023 by Jon C
Bought these as a replacement for the last pair I had which were called upon for protection when I had an accident in 2022. It was an easy choice to buy RST as the last pair performed amazingly when I had my accident, absolutely no damage to my skin when sliding down the road. They are also very comfortable and give good feel when riding
Summer gloves
06 February 2023 by Richard B
Very good summer gloves, good quality feel to them, nice and different in the red leather option.
Does as advertised
11 December 2022 by David K
Perfect size as per guide, good feel n comfortable. Haven't used in rain as yet but warm enough at 3.5 degrees on a shortish ride. Great looking n stylish glove with high visibility white makings.
Style: Black / White
Decent gloves great price
09 August 2022 by Alex T
Solid lesther with hard knuckle and wrist protection. Comfortable as any other pair I've owned. Highly recommended
Style: Black / White
New
08 July 2022 by James R
First new gloves in a while, more than happy the way they fit and performed while out on a ride. Chose my usual size and to excuse the pun they fit like a glove.
Style: Black / White
Great for smaller hands
31 May 2022 by Shaun
Smaller finger tips so you can still have a great feel for the controls but with good protection at the same time.
Style: Black / Grey / White
OK but not great
03 May 2022 by Anonymous
OK, so everything is getting more expensive, but more so recently. I buy RST for the value for money / quality balance.
These gloves are OK, but a definite step down from the RST Tractech Evos I also have. By comparison the Axis are lightweight, and I paid the same price for the Tractechs 2 years ago. I'd definitely go for the Tractech evos next time.
Style: Black / Blue / White
Great
21 April 2022 by Anonymous
Look good and feel Nicely made, obviously not as much padding as my winter gloves so I noticed how much less comfortable they are but they are by no means uncomfortable, and this will only get better as I wear them in, lots of airflow but not enough to chill your fingers dramatically when going at speed

Good bang for buck
Style: Black / White
Good budget glove
22 March 2022 by John T
A good quality budget glove.
Description
RST Axis CE Leather Gloves - Black / Red / White
Hard-wearing cowhide leather construction
Abrasion-resistant aramid fibre lining
Fixed mesh liner for enhanced comfort
Double layered leather reinforced palm
Out-stitched fingers for added durability
Pre-curved fingers helps reduce fatigue
Hook and loop adjustable wrist strap
TPU impact resistant knuckle protection
Measure around the widest part of hand (Excluding Thumb)

| | XS | S | M | L | XL | 2XL |
| --- | --- | --- | --- | --- | --- | --- |
| PALM | 6-6.5cm | 7-7.5cm | 8-8.5cm | 9-9.5cm | 10-10.5cm | 11-11.5cm |
Product Videos

RST Axis Leather Gloves review
Product Specification
Variants
Manufacturer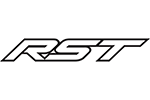 About
RST
It's no wonder that the RST motorcycle clothing range is now one of the most popular ranges of bike kit in the UK. Their continued investment in racing, with a particular focus on BSB, has meant a constant development of product, which has translated directly to their road range. With the help of some of the biggest names in the BSB paddock, such as Tommy Hill, John Kirkham and Stuart Easton, RST have pushed the boundaries of what can be delivered through a brand that remains amazingly good value for money.
It also helps that the Derbyshire based design team are passionate about what they do; rigorously testing all RST clothing themselves. The team insist on riding all year round, despite the British weather, in order to put the RST textile range through its paces, and the fact that the team are keen track day enthusiasts, provides helpful real world testing of the RST leather range too. Their continued passion for design and innovation is highly apparent in this year's range and when you add to the mix the constant stream of positive feedback from our customers, it's easy to see why we have always covered the entire range of RST motorcycle clothing, and will continue to do so.

You won't get it cheaper.
Our Price Match Promise.