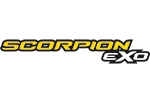 Scorpion Exo R1 Air - Carbon Gloss Black
Lightweight composite helmet with AirFit cheek pads, removable washable lining and Pinlock insert
View full details
Saving
Get 16.66% off on any intercom when purchased with this helmet!
Verified Customer Reviews for Scorpion Exo R1 Air
Awesome Scorpion exo R1 carbon
08 September 2022 by Nick M
So impressed with this light and quiet helmet.
Always had Arais, never again, so over priced.
I was very impressed with service from the staff at sports bike shop as well.
5 *****
Style: Carbon Gloss Black
Top service
25 August 2022 by Paul J
Ordered online next day delivery great price can't go wrong
Style: Black / Silver
WOW !
23 July 2022 by John R
This is my first Scorpion helmet, Always had the top Shoei and HJC's, This Exo Air R1 is mega comfy, Quality is first class, Very quiet, My favourite helmet to date.
Now as for Sportsbikeshop, What can I say other than keep up the great work guys 5*
Style: Carbon Gloss Black
Scorpion Exo R1 Air Helmet .
08 July 2022 by Kevin H
Picked up a new Crash Helmet, The Scorpion Exo Ri . Absolutely fantastic, Light weight fantastic fit and a great service from the guys at Sportsbikeshop as always, they can't do enough for you . Well pleased. Going over again in the next few days for some Rental fat bars.
Style: Corpus 2 Black / White
Scorpion Exo R1 Air - Corpus 2 Black / White
17 May 2022 by Oliver C
Arrived next day, very happy with
the service from SBS. The helmet itself is very light, including drop down sun visor and pinlock the XL only weighs around 1300g cant ask for more really.

Very comfortable helmet, at the moment I only use Scorpion helmets on road and track.

There is more wind noise in the carbon helmet compared to the composite models.

All in a fantastic helmet at this price point
Style: Corpus 2 Black / White
Amazing helmet for the price!!
14 May 2022 by Andy S
Recently taken the plunge buying this helmet after a recommendation from a mate. I've moved from a Shoei X-Spirit ll and this helmet is streets ahead in both comfort and quietness. I am super happy with it.
Style: Carbon Gloss Black
Quality lid
21 April 2022 by David J
Decided to go with a racing helmet for the unrestricted view on a supersport bike, and the view from this is excellent. Perfect fit, light and comfy, feels like part of my head when riding rather than a helmet. wind slips over it even when turning head to side. Very impressed.
Style: Corpus 2 Matt Black / Neon Yellow
Scorpion exo R1
09 April 2022 by Martin W
My first brand new helmet, staff was excellent, very helpful, helmet is great quality not as quiet as my old Shoei but it's comfortable, looks the part and is very light, many thanks sportsbikeshop for all your help
Great piece of Kit
12 March 2022 by Ian H
Great fitting helmet, snug but comfortable. Comes with a dark tint visor plus pinlock and a useful fabric visor case for the spare. Not to bad noise wise at motorway speeds. Plenty of ventilation. Only gripe, the visor is a bit tricky to fit, but stays put once fitted.
Amazing helmet and as always the best of service
14 February 2022 by Ronan S
Tl;Dr - SBS is the best for customer service. For the money I don't think you can get a better helmet.

First off I can't stress enough how awesome the customer support team at SBS is! Dpd had a few problems finding my door and once I finally got the helmet it was too small so back it went and decided on another lid as there wasn't any of the original I had ordered left in a large. With me 100% of the way even as the dpd delivery points failed me, thanks again guys.

The helmet itself? The lightest thing I've ever felt safe putting on my head on a bike, feels sold and amazingly well built. The airfit makes up for the too small medium and the large being not as snug as I'd normally like. No drop down sun visor is a pain but let's face it, this is a race helmet.

Would I love this helmet as much if it were an agv or arai carbon at a couple extra hundred? Probably not because I ain't rich enough for that yet.

At this price if your wanting a carbon lid I'd say this exo R1 or the exo 1400.
Style: Carbon Gloss Black
A proper gem
04 February 2022 by Jason B
Having recently got my first sporty bike I decided to try scorpion. The first thing that amazed me is how they have made this thing so light. It's a feat of engineering. I have found it quiet as well and my Sena fits well. The speaker pockets are really deep so it takes my thick HD Sena speakers and they sit flush in the holes. It's also very comfortable and feels way more premium than its cost. As you get a free dark visor you can essentially deduct £50 off the price straight away as this is what you normally get stung for when having to get a second visor. I am very happy with my purchase. Only negative is that you get two visors and one pinlock, and I can't seem to find where to buy another one from. But make no mistake this is a fantastic value helmet.
Style: Black / Neon Red
Light, quiet and safe
12 January 2022 by Ben B
Quality build and super light on the head. Shame it doesn't have quick release buckle, but didn't notice it after a while. It is quiet on the road thanks to their new neck cover located at the bottom of the helmet. However makes attaching speakers etc a bit difficult. Overall a great helmet and quality service from Sportsbikeshop as always.
Style: Carbon Gloss Black
Scorpion Exo R1 Air - Corpus 2 Black / White
24 October 2021 by Anonymous
Great service in the shop. The helmet is extremely light, looks great, and fits really nicely. I ordered it to try in store as they'd not got the black/white in, and by the time it arrived it had dropped in price so i was even more pleased. This helmet is easily as good as an Aria which it was replacing.
Style: Corpus 2 Black / White
SCORPION EXO R1 HELMET
21 July 2021 by Anonymous
Measured head and needed large,when helmet arrived it was to tight so sent back and within two days had extra large on doorstep.Brilliant service by SBS as usual. Pleased with helmet looks awesome and comfortable, still quite noisy with wind noise but will put up with that. Recommend
Style: Corpus 2 Black / White
Scorpion Exo R1
26 May 2021 by Paul
After wearing shoei for 20 they exo R1 court my eye so I've given it a go and all I can say is brilliant worth every penny
Style: Carbon Gloss Black
Great update
23 May 2021 by Jack W
Lighter than my previous gp air at 200grams makes a huge difference. Great feel out the box nice and snug. Happy with the purchase and will be using sportsbikeshop again.
Style: Black / Neon Red
Stealth
16 May 2021 by Wesley B
Lovely looking crash helmet, fits well looks amazing. Really light.
Style: Carbon Gloss Black
Spot on!
07 May 2021 by Christopher B
Always had Shoei NXRs but thought I'd give this a go. Really impressed. Very light and very well put together. Looks amazing too. Service from sportsbikeshop fantastic as always - ordered at 3pm on a Friday and it arrived the next morning.
Style: Carbon Gloss Black
Description
Scorpion Exo R1 Air - Carbon Gloss Black
Lightweight Carbon Composite Technology construction
Smart shell design able to gradually crumple on impact to absorb energy generated
Ellip-Tec II visor system with elliptical movement for improved airtightness between the visor and the eyeport
2 dimensional Max Vision Pinlock ready clear visor equipped with Tear-off pins
Includes Pinlock Max Vision ready dark smoke visor equipped with Tear-off pins
Airfit system allows a personalized fit via air adjustable cheek pads with additional noise reduction
Pinlock Max Vision insert included
Removable, KwikWick 3 hypoallergenic, machine washable soft interior lining
Emergency cheekpad release system for easier removal of the helmet in case of an accident
Adjustable indexed front and rear vents with aero-tuned rear spoiler to reduce lift
Breath-deflector enables enhanced fog-free performance
Chin-cover contributes to noise reduction
Titanium double D ring chinstrap fastening
Product Specification
Variants
Race Visor
Manufacturer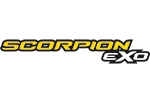 About
Scorpion
Scorpion Exo is a relatively new addition to the plethora of motorcycle helmet brands available in Europe but they have most certainly hit the ground running. From their European base in Strasbourg, France, Scorpion have developed some of the most technical elements found on motorcycle helmets today, that have since become commonplace on the feature lists of the biggest brand names. A form of Scorpion's own Airfit pump system can now be found on models of both Shark and HJC helmets but it was Scorpion Exo who pioneered the technology, along with other innovations such as their Kwikwick liner system. The Scorpion helmet range, whilst focusing on technological advancements, also focuses on the more core expectations of today's biking fraternity, style, quality and fit. To that end, they've hired some of the most famous names in motorcycle helmet design and are able to control their entire production process, by manufacturing all elements of the helmet themselves, in their own production facilities. Scorpion say that their philosophy behind every single helmet they produce can be summarized in five words: protection, aesthetics, dynamism, comfort and innovation. We say, that over the next few years, Scorpion helmets will continue to grow in popularity throughout Europe and will undoubtedly take their place alongside the other major brands of motorcycle helmet.