Verified Customer Reviews for Caberg Avalon
Comfort on a budget
17 June 2023 by David B
Bought this for my partner as her first helmet. Fit was excellent. And she loved the colours. Out on the bike for 9 hours the next day. Proved comfortable and easy to wear
Caberg Avalon - Hawk
25 May 2023 by Ellie C
Nice fitting helmet, love the design, feels quality for the price
First helmet
05 October 2022 by Bob
I don't really have much to compare it to as this is my first full face helmet after passing my CBT, but having tried many on in-shop at SBS (at every price point) this was the one that fit me best. I was a tad alarmed at first how tight it was on my cheeks, but the assistant told me it needed to be that way and over time it would mould itself to me and get comfier (which it has). and this took at least 20hrs to achieve. It's a smart helmet, i feel it would offer great protection if the unthinkable happened, and as far as wind noise goes i expected that anyway. I have added a pinlock after i got really steamed up one morning, and since then it's been fine. I would consider buying another next time if needed, but would at least try on other models so i knew how different they are, but that's mainly for curiosity and no reflection of this helmet. Last thing i would say to anyone (out of my 'vast experience' lol) is that IMHO you need to try helmets on before you buy, dont just pick one off the internet, as some of the size XL's wouldnt even fit over my head
Style: Matt Black
Great helmet
11 July 2022 by Oliver M
Great helmet. A little windier and noisier than the Shark S900 which was my previous helmet but the comfort and visibility is fine.

The sun visor is annoying tho as you can see the nose cutout in the blur of the corner of your eye.

I'd rather have just bought another Shark S900 I think.
Style: Matt Black
A good budget choice
20 June 2022 by Mark B
For the money, this is proving to be a very good helmet. It fits well, is relatively light weight and looks good. The visor mechanism seems unecessarily fiddly but after some practice isn't too bad.
For me, the most important thing is that the fit suits. I'm a size medium and find it equivelant to my old "small medium" AGV K-5, or how HJC helmets used to fit in a medium a few years ago.
I bought the fog city (pinlock equivalent) insert with the helmet and would recommend that too.
Comfy, but noisy
19 August 2021 by Robin D
The helmet is comfortable, fits me well and peripheral vision is very good, not had chance to use internal sun visor yet. NO SUN! There is a lot of wind noise from about 30mph that I dont get with my Scorpion Helmet. This is the only flaw. Good value though.
Caberg helmet - Cool Design
18 June 2021 by Richard W
Nice helmet and cool design.
Description
Caberg Avalon - White
Polycarbonate shell construction
Removable and washable interior
Anti-scratch visor
Internal sun visor
Micrometric retention system
Strategic vents for increased airflow
Approx weight: 1500g +/- 50g

The Caberg's Avalon is a full face with a sport-inspired helmet with many technical features, suitable for all riders. The Avalon is the ideal helmet for everyday use, and long-distance or more challenging routes. The Avalon is equipped with an anti-scratch clear visor ready for an anti-fog lens, and an integrated sunshade visor easily manoeuvrable with a lateral lever. Both visors can be easily removed without the use of tools. The many adjustable air vents on top ensure the incoming of fresh air while the rear air extractors and the spoiler favour the air recycling by discharging hot and stale air. It comes with a Hypoallergenic lining which is entirely removable and washable. It is equipped with a micrometric buckle retention system for ease of use.
Product Videos


Caberg Avalon helmet review
Product Specification
Variants
Manufacturer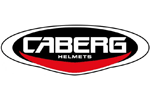 About
Caberg
For over 20 years Caberg have been at the forefront of technical evolution and stylistic innovation. This has enabled them to develop a reputation for producing high quality reliable motorcycle helmets. Caberg helmets are constantly updated and restyled to cater for fashion trends and new developments in comfortable materials. Features such as the integral sun visor make a Caberg helmet a very popular choice.

You won't get it cheaper.
Our Price Match Promise.