Customer Reviews for Arai Quantic - Snake White
November 21, 2021
Quality helmet that fits.
After owning an Arai and Shoei helmets before I wanted to try on the new latest standard ones plus needing a new helmet this was the opportunity to do so. I found the Arai was easy to get on and off more easily than the previous ones and just seem to fit straight away and very comfy interior. With the new air vents thought this was the one for me. I haven't use it much yet but it does seem to be quiet and comfortable. only long term use will tell more .
Read more
November 13, 2021
Quality helmet meeting latest ECE 22.06 standard
If you are buying a helmet today, and can afford it, getting one that meets the new ECE 22.06 standard is a no brainer. Just 2 helmets on the market so far, the Arai Quantic and Shoei NXR2. The Quantic fitted my head better. Observations are the Quantic works better if wearing glasses (the NXR2 seems to have no void for arm of glasses). The Quantic has LOADS of air vents (too many for UK weather?), but this doesn't seem to cause any wind noise issues. Only negative is I am not sure how long the stuck on rear spoiler will stay in place, but comes with 5 year warranty so not concerned. Quantic use VAS-V Pinlocks, so at some stage will be able to buy and fit a light reactive Pinlock.
Read more
Press Reviews for Arai Quantic - Snake White
Description
Arai Quantic - Snake White
Peripherally belted e-complex laminate construction
VAS (Variable Axis System) Pinlock ready Max Vision visor
Comprehensive and controllable ventilation with 6 intake and 6 exhaust ports
3D Arai logo duct with two central 10mm intake ports
3-position (open, midway and closed) sliding air-scoop chin vent
Dual intake and brow vents for maximum airflow
One-piece rear exhaust with spoiler function, neck exhaust vent and side exhausts
Removable and washable brushed nylon liner material
Speaker pockets offering room for mounting speakers without affecting comfort
Facial contour system (FCS) offering a comfortable, snug fit
5mm 'peel away' temple pad offers additional interior width if needed
Emergency release system (ERS) allows easier access to an injured rider
Breath guard works in conjunction with the dual-pivot chin vent to better direct fresh air
Exclusive 5mm shell flares, making it easier to get helmet on and off
Designed for easy external communication system fitment.
Neckroll wire pocket designed to work clearly without affecting comfort or protection
Double-D ring fits smooth against the chin
As with every Arai, the Quantic is formed around protection, first and foremost. Manufactured by hand, the outer shell maintains core strength but with a substantial weight reduction. The smooth, round shape is a key Arai signature and primarily designed to 'glance-off' and spread impact forces. Using the aerodynamic and protective abilities of Arai's full-race helmets and all the experience and know-how earned over millions of road kilometres, the new Quantic slips through the air neatly and efficiently, wrapping its wearer in a cocoon of luxury. It offers a fresh choice for riders that want the very best performance from a helmet - in terms of protection, comfort and ease of wear, day-in-day out - with zero compromise. For easy access on and off the Quantic features a 5mm flare around the base, while the VAS MAX vision visor comes with a Pinlock insert ready to use. The premium brushed nylon interior is removable and features Facial Contour System (FCS) and neck roll wire pocket. It also features Emergency Release System (ERS).
Product Videos

Arai Quantic helmet review
Features
Product Specification
Variants
Intercom System
Manufacturer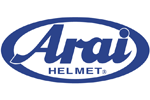 About
Arai
If there's one brand you can rely on in the fast moving world of motorcycling, it's Arai. Since 1937, this family owned company has committed itself to one goal, making the very best helmet possible.

Arai have consistently provided the ultimate in motorcycle helmet safety, comfort and quality thanks to over 20 years of effort in MotoGP, World Superbike and every other conceivable form of motorcycle racing, at all levels. Every single piece of knowledge learned on the racetrack is put to good use in the development of product, helping to protect every one of Arai's customers on the road, the world over. There truly is no such thing as a cheap Arai helmet.

So while many things change, one truth will always remain. If you want the ultimate motorcycle crash helmet there is only one choice, Arai Helmets.
See all Arai products…

You won't get it cheaper.
Our Price Match Promise.