Verified Customer Reviews for Premier X-Trail
Good buy
14 November 2023 by Alistair M
Have wanted to get an adventure helmet for a while so when this one was half price I jumped straight in. I have actually been really surprised at the quality of this Premier helmet, I had never tried one previously. I was also surprised to find it comes with a 5 year warranty. I have only covered around 100 miles in it, all commuting, but have not found any negatives so far. It's no noisier than my last helmet (Shark Evoline) I always wear earplugs when riding. I would definitely recommend as an entry to adventure helmets at the price Sportsbikeshop are currently selling it at. Service as usual from Sportsbikeshop is brilliant.
Style: XT 2 White / Red
A bit disappointing.
13 June 2023 by Steven T
I can remember Pier Franchesco Chilli using Premier helmets in WSBK 28 years ago and I wanted an adventure helmet with a flip front so decided to go for the X Trail. This is a very good looking helmet when it comes out of the box.The finish is nice except for a piece of grit under the black graffic on the peak. I had a HJC RPHA 90S Behavo before this and the Premier is just as comfortable. The chin draft excluder is soft and a nice touch. The bad points are. The anti fog visor fogs up at 12'c. I have not fitted the pinlock yet but point is visor is meant to be anti fog. The drop down sunglasses need to drop 5mm lower. It is on heavy side at 1870g. My flip front HJC RPHA 90S is 1583g. The lining tends to come out slightly when taken off your head, which is a very poor design. You need to carry a 5mm allen key to remove the peak/visor. But the worst point for me is that the vents on top of this helmet simply do nothing whatsoever when open. I could feel a draft over top of my head with the HJC. So this is why I have only given it an average score. I ride 12000 a year so it is on my head a lot. If you only do 2000 miles a year of short journeys then a lot of these issues will not affect you.
Style: XT 2 White / Red
Very surprised
27 May 2023 by Lee
Wife needed a new helmet. So looked at the usual top brands and stumbled over this.

You seem to get drawn to the name brands for quality. I've always had Arai. Upon opening this Premier helmet I was so surprised if the quality for the money.

Comes with pinlock in the box and set up to add your speakers and mic. Smooth opening and closing quite vented and the interior is on par with other more expensive helmets. The peak is good with no pulling when riding even at motorway speeds and even easier to remove the internals to wash.

All helmets do the same thing, some better than others however, I got taught comfort it everything and my wife loves this crash helmet.

I'm due a new one and was looking at the new C5 E2 however, now looking at Premier, so for the cost of the Sena that goes into the C5 you can have a very well put together helmet.
Excelent quality. Good value for the price
23 March 2023 by David T
Good quality, comfortable fit, and value for money.
Style: XT 2 White / Red
Very well made helmet
19 June 2020 by Anonymous
a very well made helmet. Great features and the flip top makes its great for all riding conditions. For me , as I have a slight neck issue it's a bit heavy for all day wearing. For the price a very good option.
Description
Premier X-Trail - XT 92 BM Black / Red
Dual-sport touring helmet design
Easy to use a flip front feature, ideal for touring
Strong thermoplastic outer shell construction
Front chin and top vents for optimal air intake
Top rear exhaust vent for enhanced airflow
Removable and washable sanitised interior
Anti-scratch clear Pinlock ready visor
Pinlock anti-fog insert is also included
Dark smoke drop-down internal sun visor
Quick-release micrometric chin strap
Weighs approximately 1790g (+/- 50g)
Product Specification
Variants
Visors
Manufacturer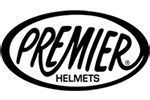 About
Premier
The Premier helmet is an essential element for full-time motorcyclists both professional and touring riders as well as the urban commuters. The range includes models specifically designed for different uses, very light and super-ventilated, which have been extremely well received by the every-day town user as well as by the professionals one.

You won't get it cheaper.
Our Price Match Promise.