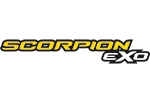 Scorpion Exo 390 - Chica 2 White / Pink
Full face helmet with Pinlock ready MaxVision visor and KwikWick2 lining
View full details
Saving
Get 16.66% off on any intercom when purchased with this helmet!
Verified Customer Reviews for Scorpion Exo 390
First time biker
11 July 2021 by Samantha S
Absolutely love this helmet. It's the first time I've ever been on a bike let alone ride one myself, this helmet is so comfortable and stylish very lightweight great for someone like me
Style: Matt Black
Value for Money
17 January 2021 by Anonymous
Good quality helmet, nice design and features. On parr with HJC's entry level helmets.
Style: Beat Matt Black / Pink
Excellent fit, high quality helmet
28 June 2019 by Roland
Bought it for the missus, she loves it. Perfect fit, very light, just what she needed
Style: Chica White
Excellent lid
24 March 2019 by Mathew H
Bought this for my wife who rides pillion from time to time, great fit, great looking, she loves it, I'll definitely be back for my next load of bike gear,
Thanks
Style: Chica White
Scorpion exo
05 March 2019 by Ivan M
Very very nice helmet my girl loves it
size s fits her spot on

Style: Chica White
Good helmet for the price.
05 November 2018 by Anonymous
Nice graphics,good padding,visor feels solid enough.Good helmet for the price. My wife was happy with it.
Style: Chica White
Nice cheap lid
24 September 2018 by Dan C
Bought for the wife, seems well built for the price, plenty of features on a helmet that cost less than a oner.
She did mention a bit of lift at motorway speeds, but I doubt many helmets short of Schuberth prices will combat that.
Style: Chica White
Description
Scorpion Exo 390 - Chica 2 White / Pink
Advanced polycarbonate composite engineered shell construction
2 outer shell sizes
Pinlock Maxvision prepared
Quiet, aero-tuned design for wind-tunnel tested comfort
EPS-lined chin bar for additional protection
Adjustable front and rear vents
Aero-tuned rear spoiler reduce lift
Vacuum effect maximises airflow through the helmet
Very soft, removable, hypoallergenic, removable, machine washable KwikWick2 lining
Breath deflector
Chin-cover to reduce noise
Quick-release micrometric automatic chinstrap buckle
5 Year Warranty
With its very effective, hypoallergenic, removable, machine washable, and very soft and pleasant to the touch KwikWick2 lining the Scorpion Exo 390 range is a real custom-made slipper for your head. The advanced polycarbonate composite engineered shell is a quiet, aero-tuned design for wind-tunnel tested comfort. EPS-lined chin bar adds additional protection. The ventilation system comprises adjustable, indexed front and rear vents with an aero-tuned rear spoiler to reduce lift, create vacuum and maximise airflow through the helmet. The breath-deflector provides enhanced fog-free performance while the chin-cover contributes to noise reduction. Micrometric Automatic chinstrap buckle provides a quick release and precise adjustment.
Product Specification
Related Items
Manufacturer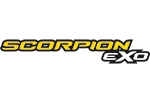 About
Scorpion
Scorpion Exo is a relatively new addition to the plethora of motorcycle helmet brands available in Europe but they have most certainly hit the ground running. From their European base in Strasbourg, France, Scorpion have developed some of the most technical elements found on motorcycle helmets today, that have since become commonplace on the feature lists of the biggest brand names. A form of Scorpion's own Airfit pump system can now be found on models of both Shark and HJC helmets but it was Scorpion Exo who pioneered the technology, along with other innovations such as their Kwikwick liner system. The Scorpion helmet range, whilst focusing on technological advancements, also focuses on the more core expectations of today's biking fraternity, style, quality and fit. To that end, they've hired some of the most famous names in motorcycle helmet design and are able to control their entire production process, by manufacturing all elements of the helmet themselves, in their own production facilities. Scorpion say that their philosophy behind every single helmet they produce can be summarized in five words: protection, aesthetics, dynamism, comfort and innovation. We say, that over the next few years, Scorpion helmets will continue to grow in popularity throughout Europe and will undoubtedly take their place alongside the other major brands of motorcycle helmet.