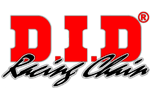 D.I.D 'X' Ring Drive Chain - 530 Pitch VX
Customer Reviews
for D.I.D 'X' Ring Drive Chain - 530 Pitch VX
Description
D.I.D 'X' Ring Drive Chain - 530 Pitch VX
Higher wear resistance
Reduces friction
Patented X-ring construction
Keeps dirt out and lubrication in
D.I.D's patented X-ring construction reduces friction by twisting between the side plates instead of squashing. Normal O-rings and other manufacturers modified O-rings have squashed points that increase friction. The twisting action of the X-ring disperses the pressure and minimises power loss.
Manufacturer
Questions and Answers
Questions and Answers
Hi, can you tell me if it comes with a clip style master link?

October 5, 2011

The D.I.D 'X' Ring Drive Chain - 530 Pitch VX comes supplied with a soft link.