Verified Customer Reviews for Icon Airform
One of the coolest helmets on the market
01 April 2023 by Michael C
Great looking helmet, fits perfectly and drop down visor works well. Space below for clear reading of phone or satnav, visor pinlock nice and secure. Have bought much dearer helmets before with less features and a poorer fit, this helmet is definitely well worth the cost at half what I've paid before.
Style: Death or Glory Black
Wowser!
13 February 2023 by Andrew P
My girlfriend loves this helmet and design. Excellent quality and construction. Brilliant service from Sportsbikeshop as always. Buy with confidence, these guys are the best. Well done and thanks.
Icon Manik'r Blue
27 October 2022 by Marc C
Dont get me wrong its a good helmet but does have a bit more wind noise compared my my HJC.

I love the design and the graphics but the glow in the dark feature does not work at all which is why i rated it poor because its meant to glow in the dark.
Very happy
20 October 2022 by Matthew G
Lovely helmet Fits really well Very comfortable great design seems to be very good in all weathers Nice and light weight Love the pop down Sun visor as comes in very handy when the sun decides to pop his head out I'm quite cool that glows in the dark I am very pleased with this helmet
Nice comfy helmet
19 July 2022 by Jermayn C
I'm really surprised how quiet and snug this helmet is, the venting system is slick and I've never had a sun visor (airframe pro user) but it is a really nice touch, although on a windy day dust can get passed it. All of this wrapped in awesome Matt black finish
Style: Rubatone Matt Black
Icon Airform - Manik'r Green
11 April 2022 by Mark W
I bought this item based on how it looked. The green colour and matching visor looked fantastic. When it arrived the visor was not green but iridescent and mostly purple, I was really unhappy at the misrepresentation. I decided to keep it anyway, I have worn it twice, the back of the helmet is quite low and has made my neck really sore as it's rubbing. Also when I stopped to get fuel I raised the visor and one side of it unclipped it's self. If that had happened when at speed, that could have caused a crash. I am really not happy.
Style: Manik'r Green
The best looking helmet I've seen
09 April 2022 by Paul W
This helmet looks so much better in person than the pictures do it justice for. I've had several people complimenting me on my helmet since purchase.
The inner material is snug and feels secure.
My only niggle with this helmet is you can't close the mouth/chin vents so on a cold morning you can do nothing but suck in cool air - the helmet is definitely for summer months.
Style: Manik'r Red
Great value
05 March 2022 by Anonymous
Really comfortable , great value , good vision, fits perfect , looks good
Style: Rubatone Matt Black
Comfy and a bargain
22 February 2022 by Anonymous
This is my 3rd icon helmet. Great styling,comfy,good vision and what a bargain.
Style: Rubatone Matt Black
Value!
18 February 2022 by Steve D
Purchased this in small for the lady. Out of the box it looks a little bigger than expected. Very lightweight and looks to be of a good quality. Im told it feels snug and secure albeit a little large looking. Happy with the purchase.
Style: Rubatone Matt Black
Awesome looking bit of kit
22 November 2021 by Simon K
Great looking product.

Sportsbikeshop as always deliver on time, next day etc etc.

Used them for many years now, 100% trustworthy with a superb returns option should you ever need to.

Highly Recommended. A*****
Style: Manik'r Red
More than decent
22 September 2021 by Marcin C
Got it for fun and banter but it surprised me in a very positive way. Great value for money, Ii am very pleased. Having 58.5cm head circumference I got myself M which fits perfectly well. Perhaps that is just the shape of my skull - fairly oval. Build quality and comfort more than decent - not as plush as Shoei or Schubert but absolutely okay for daily commutes around the city.
Style: Buck Fever
Practical helmet
10 August 2021 by Anonymous
Can't fault it, fits well, looks good, and isn't too noisy.
Style: Rubatone Matt Black
Very comfy skid lid.
21 July 2021 by Phil S
1st time I've had an Icon lid.I wanted a 2nd lid for the leisure riding and my other lid for the work commute. Other reviews I've seen have said Icon were noisy but I've found this to be ok.Only thing I'm having to get used to again is the double D buckle fastening as I'm used to ratchet style but that's not a problem. Good size vision and flip down sunviser are spot on for the low sun on a morning. Very pleased with it.
Style: Rubatone Matt Black
Icon Airform Chantilly Opal - Purple
02 July 2021 by Linda H
Needing a XS or Small helmet, I really struggle to find a helmet that fits well and at the same time doesn't look massive on my head.. this Icon helmet is well made, beautiful to look at, it fits unbelievably well and is really comfortable, the built in sun visor is perfect and comes in iridium gold rather than just darker plastic, Iridium visors have a colored mirror like appearance from the outside that reflects a lot of light, they are essentially tinted visors best for use in bright sun.. It was slightly difficult to fit my comms system due to the shape of the side of the helmet and the plastic trim but we got there in the end.. The only real downside to this helmet is you cannot close off the front mouth vents so they do cause some wind noise..but that's easily remedied if you're happy to stick something over the inside of the vents.. 9/10
Style: Chantilly Opal Purple
Beautiful helmet, but beware of sizing
19 May 2021 by PC
Fell in love with this helmet as soon as I saw it on the website, and in person its even more stunning. The design is downright gorgeous, and the way it looks in person is even better than you'd think.

Unfortunately, The sizing is different to any other helmet I've tried. Ordered a large originally, and I couldn't even get that on my head (Felt like trying to put on my friend's size small lid) and when I exchanged it for the XL that wouldn't go on either! I had to buy a different helmet in the meantime cuz I needed one, and that XL is almost too big. I eventually did get this one on, but it was waaaaaaaay too tight, gave me a migraine and got stuck on my head. Don't know if it's the american sizing, different shape (intermediate oval on icon website) or my head being weird, but I'm absolutely gutted I can't keep it.

This is not the helmets fault, my head is just the wrong shape, but make sure you check and double check the sizing, if possible go into a store and try it!

5* because the helmet is absolutely great, if it fits you, you'll love it!

Great service from SBS too, phone agents are super, super helpful and returns/exchanges are easy peasy.
Style: Chantilly Opal Purple
Nice, sleek, eye catching but buy bigger!
15 April 2021 by Pooch
This is a really nice helmet. The eye catching colour changes and detailed pattern are a bit of a head turner. What I liked especially about this helmet was it's rated 5 Stars by SHARP (Google: Sharpe helmet testing UK Gov for more info).
It's a really nice and comfortable fitting helmet but for some reason does come up a little smaller than most other helmets so it's best to try 1 size bigger! I was shocked when I had to get an XL after years of Mediums or Larges. But, the helmet is well worth it. The little notch which stops the visor shooting up takes a little getting used too as it seems "a bit stiff" to get the visor up but with practice, there is a knack to it.
Both colour schemes are cool. We have one helmet of each colour as "his & hers".
The wind sound isn't too bad either which can be an issue with similarly priced/well known makes.
The coloured coded internal sun visor makes a very nice finishing touch to an already very nice looking lid.
A decent price for a good quality, highly rated helmet. Would definitely recommend.
Style: Chantilly Opal Blue
Amazing Helmet
12 April 2021 by Jack R
There is only 1 word for this helmet - Amazing! This is a superb helmet for the price and it has the looks to match. It is a super comfy fit, with the padding being extremely comfortable. The built in speaker indents are a great feature and make for an easy intercom install. It is safe to say if i need to replace this helmet the same one shall be bought again and I might even try another design if i can convince my heart!
Style: Parahuman Blue
The middle of an August Bank Holiday heatwave is a good time to test the ventilation on a helmet. That's when I first...
Description
Icon Airform - Grenadier
Injection moulded polycarbonate shell construction for strength and durability
Dark smoke fog free internal sun visor
Quick change fog-free visor with Prolock locking system
Fully removable Hydradry moisture-wicking interior liner
Intermediate oval shape, shorter front-to-back and a little wider side-to-side
Four front air intakes with rear exhaust port
Deep EPS channelling aids interior airflow
Side neckline design allows easier ingress and egress
Continuous chin bar venting system allows air to freely flow
Pockets for easy intercom speaker installation
Removable breath deflector
Interchangeable rear spoiler components for a customised look
ECE 22-05 certified
Includes additional not road legal RST silver race visor
The Icon Airform combines trickle-down technology from the Airframe Pro and Airflite helmets, delivering top-shelf features for the everyday rider. Such features include a sculpted neck roll to reduce jacket interference, drop-down internal sun visor and speaker cutouts in the EPS for intercom systems. The HydraDry moisture-wicking interior is coupled with deep airflow channelling in the EPS to enhance cooling performance.
Product Specification
Variants
Visors / Extras
Manufacturer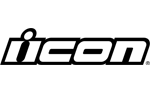 About
Icon
In 2002, Icon burst onto the scene and set out to revolutionize the motorcycle apparel industry. Icon's creators recognised a hole in the race-focused industry - the lack of protective apparel and helmets for the new 'street' biased rider. Icon's products were immediately embraced by this aggressive new generation.

You won't get it cheaper.
Our Price Match Promise.