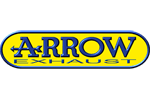 Arrow Exhaust - Yamaha FZ1 / FZ1 Fazer
Description
Product Options
| Option | Description | Price |
| --- | --- | --- |
| 1 | Road approved aluminium silencer with baffle to fit original pipes (retains cat.) | £349.80 |
| 2 | Road approved Dark Line aluminium silencer with baffle to fit original pipes (retains cat.) | £349.80 |
| 3 | Road approved titanium silencer with baffle to fit original pipes (retains cat.) | £453.75 |
| 4 | Road approved aluminium/carbon silencer with baffle to fit original pipes (retains cat.) | £415.80 |
| 5 | Road approved titanium/carbon silencer with baffle to fit original pipes (retains cat.) | £511.50 |
| 6 | Road approved Dark Line aluminium/carbon silencer with baffle to fit original pipework retaining cat. | £415.80 |
| 7 | Road approved white aluminium/carbon silencer with baffle to fit original pipes (retains cat.) | £448.80 |
| 8 | Road approved white aluminium silencer with baffle to fit original pipes (retains cat.) | £384.45 |
| 9 | Full system with road approved aluminium silencer with baffle (removes cat.) | £785.40 |
| 10 | Full system with road approved Dark Line aluminium silencer with baffle (removes cat.) | £785.40 |
| 11 | Full system with road approved titanium silencer with baffle (removes cat.) | £889.35 |
| 12 | Full system with road approved carbon fibre silencer with baffle (removes cat.) | £861.30 |
| 13 | Full system with road approved aluminium/carbon silencer with baffle (removes cat.) | £851.40 |
| 14 | Full system with road approved all carbon silencer with baffle (removes cat.) | £930.60 |
| 15 | Full system with road approved titanium/carbon silencer with baffle (removes cat.) | £947.10 |
| 16 | Full system with road approved Dark Line aluminium/carbon silencer with baffle removing cat. | £851.40 |
| 17 | Full system with road approved white aluminium/carbon silencer with baffle (removes cat.) | £884.40 |
| 18 | Full system with road approved white aluminium silencer with baffle (removes cat.) | £820.05 |
Arrow Exhaust - Yamaha FZ1 / FZ1 Fazer
Images below are for illustration purposes only.
Product Fitment
Manufacturer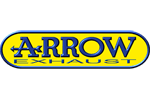 About
Arrow
Founded by Giorgio Gianelli in 1985, Arrow are now one the the most respected brands of motorcycle exhausts the world, with several bike racing titles under their belt. By refusing to compromise on their philosophy of quality through craftsmanship, Arrow continue to produce handmade exhaust systems that offer both performance and reliability.
See all Arrow products…
Questions and Answers
Questions and Answers
No questions or answers have been posted for this product…

You won't get it cheaper.
Our Price Match Promise.